Stories of Crimean political prisoners to be heard at Warsaw Human Dimension Conference
Human Rights Centre ZMINA in partnership with Crimea SOS, Front Line Defenders and with support of Irish Mission to OSCE, EU Delegation and Human Rights House Foundation holds a side event "Persecuted and Detained: Stories of Crimean Political Prisoners" at the Warsaw Human Dimension Conference on October 6 at 14:00 CEST.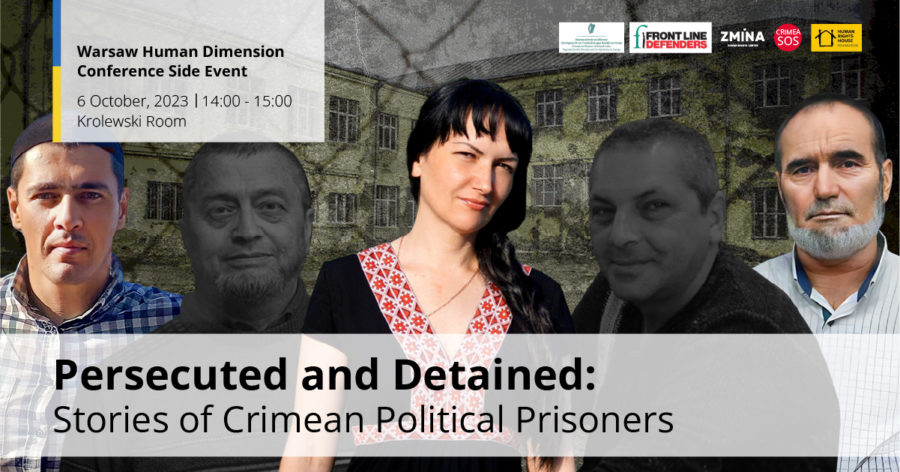 Over the last 9 years, more than 180 citizens of Ukraine have become victims of political persecution in the temporarily occupied territory of Crimea. Among them are human rights defenders, religious groups, media workers, and activists; both ethnic Ukrainian and Crimean Tatar. 
In an attempt to intimidate the population and stifle freedom of speech, individuals are accused of trumped-up cases. During the show "tribunal-reprisals" that follow, fair trial rights are trampled, and the basic necessities of those detained are not addressed. The lawlessness and impunity of representatives of the occupation authorities led to the deaths of two political prisoners, Dzhemil Hafarov and Kostiantyn Shyring in early 2023.
The arbitrary actions of the Russians in the temporarily occupied Crimea, who have been cynically violating fundamental human rights and international humanitarian law in the peninsula since 2014, should be meaningfully addressed by the international community.
At the event, human rights defenders and relatives of political prisoners will discuss:
Stories of political prisoners: statistics, profiles and ways of falsification of criminal cases in Crimea;
Persecution of Crimean Tatars and Muslims;
Persecution of human rights defenders in Crimea;
Transfer of detainees from newly occupied territories to Crimea;
Violation of the rights of political prisoners: failure to provide medical care, torture and deportation;
Searching for mechanisms for holding representatives of the occupying authorities accountable;
Recommendations to the OSCE and its participating States.
Panelists.
Viktoria Nesterenko, Human Rights Center ZMINA
Sabina Ilias, CrimeaSOS
Anastasiia Moskvychova, Front Line Defenders
Yuliya Gorbunova, Human Rights Watch
Aziz Umerov, brother of political prisoner Leniie Umerova
Bronislav Danylovych, father of political prisoner Iryna Danylovych (video)
Moderator: Ambassador Anne-Marie Callan, Permanent Mission of Ireland to OSCE