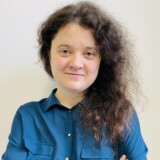 Nadia Dobrianska
Project Coordinator
nd@humanrights.org.ua
Has nearly 10 years of experience in public policy analysis, legislative drafting and analysis of the public opinion polls.
She worked as a public adminstration expert of the Centre for Political and Legal Reforms in 2012-2015. She co-authored two laws on migration and the freedom of movement. In 2015-2016, she served as a Deputy Chief of Law of the political party 'Samopomich Union' in the Parliament of Ukraine. She worked as an independent policy analyst in 2016-2021. In 2018, she worked as a policy analysit of the project on the reform of the registration of the place of residence for the Human Rights Centre ZMINA. In 2018, she taught a guest course 'Law and public policy: sociological perspectives' at the National University of Kyiv-Mohyla Academy.
In 2020-2021, she was a research volunteer at the Constitution Unit (UCL) think tank, where she analysed a public opinion survey on Irish unification referendums. She also conducted public analysis of the opinion polls for the Fight for Right NGO. Also, she was a Research Assistant to the Northern Ireland's Office Centenary Historical Advisory Panel.
She completed BA and Specialist in Law programs at the National University of Kyiv-Mohyla Academy in 2010.  During her studies, she focused on public international law and human rights. In 2020, she graduated from MA Irish Studies from the Queen's University of Belfast, where she studied research methods for politics as well as Irish history and politics.
She enjoys travelling, cooking, baking bread and playing the flute.