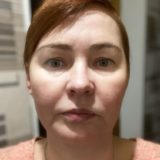 Olesia Lantsman
project researcher, journalist
ol@humanrights.org.ua
Started her career in August 2003 as a data entry operator in the editorial office of a district newspaper.
In 2010, after graduating from university and several journalism training workshops, started writing articles and was transferred to the post of a journalist.
In November 2018, left the editorial office to become a freelancer. Olesia is proud of this decision as she was able to expand the boundaries of her professional activity.
Conducted investigations for Izbirkom, Bloggers for Good Self-Governance, Center for Journalistic Investigations (Mykolaiv), Bihus.info online media outlets.
Wrote texts on anti-corruption topics, the use of political finances. Since the beginning of the war, Olesia has been talking about Russian war crimes.
Received the award "Best material with a civic position at the local level" in the 2019 Honor of Profession competition.
Hobbies: Reading paper books, walking the dog in nature.