ZMINA shared oral statement at the European Forum Alpbach Community Call from warzone
The European Forum Alpbach (EFA) special edition of the #believeineurope Community Call "United with Ukraine"  took place on February 28, 2022.  ZMINA's international advocacy officer and a member of Forum Alpbach Network Maria Kurinna shared deeply emotional accounts from the warzone and called on Alpbach community to put more pressure on the EU and local politicians to act.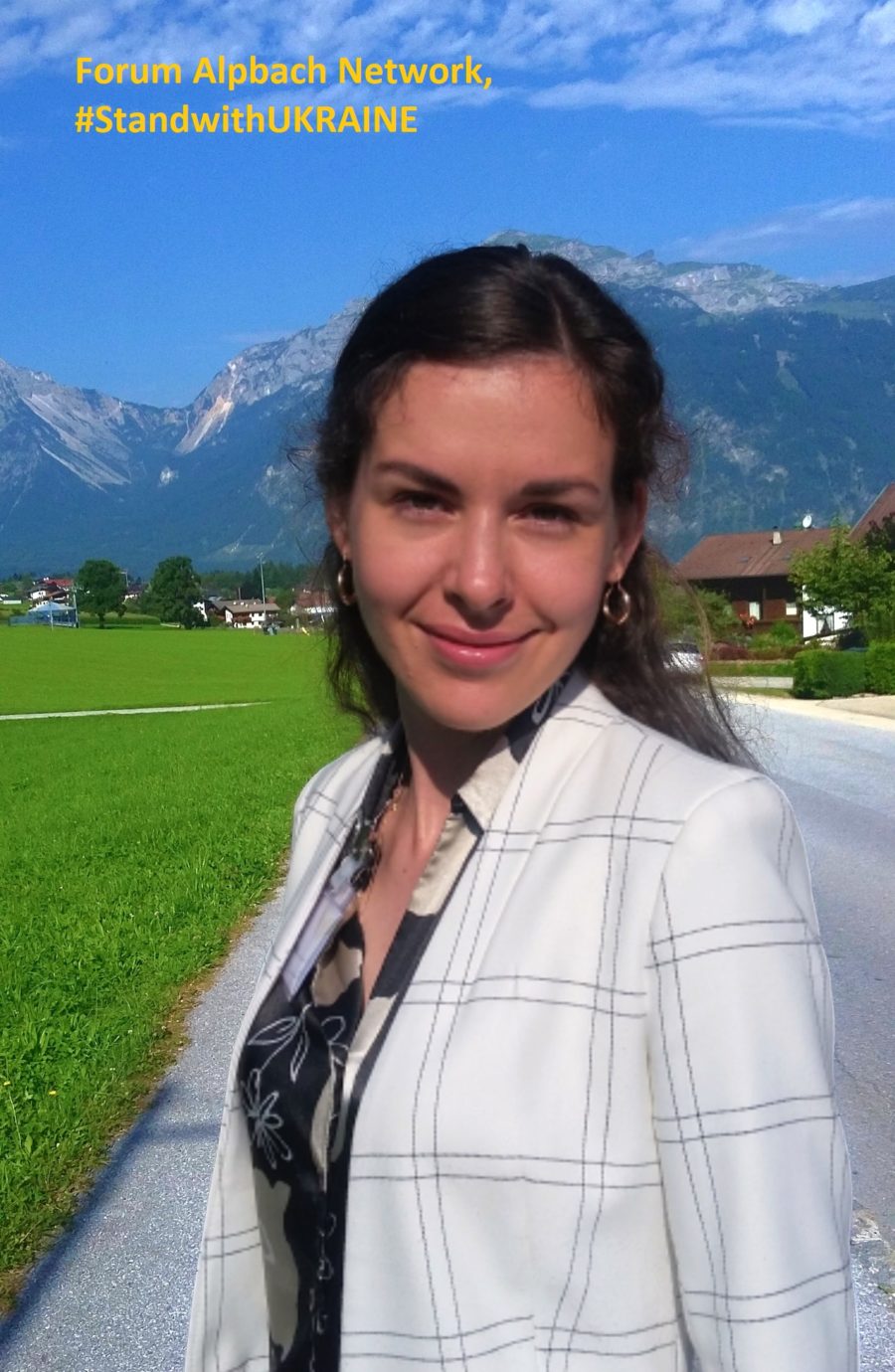 Transcription of Kurinna's statement during the EFA Community Call. 
"Dear European Alpbach Network members, 
My name is Maria Kurinna. I'm a member of Kyiv initiative group Alpbach and international advocacy manager at the Human Rights Centre ZMINA which means 'change' in Ukrainian. Another part of my identity is having been an internally displaced person for almost eight years, putting all professional efforts in the diplomatic and human rights sphere to restore freedom and democracy for Ukraine to flourish.  
Ukraine is under a severe brutal attack, not the military operation of disarmament, as experienced Russian propaganda lies. This is Russian war against Ukraine, a sovereign European state. This war didn't start just five days ago, it has been ongoing for eight long years. Ukraine has nonetheless become even more united, stronger, and more resilient than ever. We are fearlessly and courageously fighting against the barbarian totalitarian aggressor, each at his/her place: Ukrainian military forces, volunteers, territorial defense units, human rights defenders, civil activists, medical personnel, cyber security specialists, independent media, artists, every Ukrainian tries to contribute in whatever way he/she can.  
What is at stake for Ukraine? It is a question of defending Ukrainian choice. The choice of freedom, democracy, respect of the rule of law and human rights. This is a question of the choice made by Ukraine to return to the European family. And this is a question of our existence. We will continue to fight tirelessly day and night and we will not give up. So we have no doubts we will win, as we defend not only our freedom and our peace, but we also preserve the basis of international law and world security, in order any country's independence, territorial integrity and sovereignty not to be questioned. 
Not only our future is at stake, the future of all democratic values and the world order are at stake now. We, human rights defenders and activists, have been reporting and alerting Europe and the entire democratic world for years, trying to explain it is not enough to be 'deeply concerned'. As well as, it is impossible to negotiate with the international criminal who violated the very concept of international humanitarian law by occupying Crimea, Ukraine on February 2014. European leaders tolerated this gross crime and subsequent violations of international human rights law. They tolerated occupation of the parts of the independent states, e.g. Moldova, Georgia, and Belarus leader's blatant persecution of his own nation. Subsequently, the war is about to knock to your doors, my friends. Russia's attempt to threaten Ukraine with nuclear weapon is a threat to whole of Europe and the world. It is not the time to wait for someone else to decide what to do, it is time to act now boldly and promptly. As not even every day, every hour counts. Every minute Ukrainians die. Man, women, elderly people, babies and our pets suffer. Ecological catastrophe can outburst any moment. War doesn't choose. As it hasn't not chosen me or my family specifically twice in our lifetime, first in Luhansk, second – in Kyiv. For the second time, I have to leave my home and be under bombs and fire. Please, act in the sphere you can. 
I know how talented, professional and devoted to democratic values and peace you are, my dear Alpbach community.  
Go to peaceful open-ended protests every day until the war is over. 

 

Arrange strikes together with professional trade unions not to cooperate or trade with Russian businesses and stop exporting their equipment, spare parts and any other commodities. Stop cooperation in all strategic fields. 

 

Appeal to your MPs to foster the procedure for Ukraine's integration into the EU, block all Russian assets and funds.

Challenge pro-Russian lobby high-level decision-makers who are paid from your taxes.

 

Advocate at all intergovernmental platforms or international organisations you have access to.

Speed up bureaucrats blocking the access to any assistance to Ukraine.

Educate others that we, the Ukrainians are defending our state and have never had any plans to start any war since our independence, as we are a peaceful nation, devoted to dignity and freedom of any individual. 

 

Donate to any Ukrainian initiative you feel related to.
And remain sure we, together, having our strong Alpbach spirit will win. This is a clash of civilizations. Tthough, a peaceful and secure future is in our hands and it will prevail! "
More details of EFA Community Call's "United with Ukraine" deliverables are available by the Link
Note:
The European Forum Alpbach is an interdisciplinary platform for science, politics, business and culture. Established in 1945, the annual European Forum Alpbach and our events throughout the year address the relevant socio-political questions of our time.
We connect international decision-makers from all sectors of society with an interested audience and committed young people. Our goal is to create a dialogue across the generational, ideological and other lines that divide us.
The European Forum Alpbach took place for the first time in August 1945 as one of the earliest international political and intellectual events in post-WWII Europe. Its founders were Otto Molden, who had been active in the resistance movement during the Second World War, and philosophy lecturer Simon Moser from Innsbruck, as well as a number of other influential personalities. Alpbach was created as an intellectual platform of discussion where Europe's cultural, scientific and humanitarian heritage could be developed in a future-oriented way and where European integration could be promoted.
The significant contribution Forum Alpbach has made to the intellectual life of post-war Europe is a real achievement.