ZMINA encouraged Europeans to mobilise its efforts to help Ukraine win at European Green Academy in Warsaw
On July 15, 2022, Maria Kurinna, International Advocacy Manager at ZMINA, gave a keynote speech at the European Green Academy (EGA) in Warsaw, organised by the Green European Foundation with the support of Heinrich Boll Stiftung and Fundacja Strefa Zieleni. Kurinna encouraged European society to mobilise all its efforts to help Ukraine win in Russia's war of aggression to prevent further violations of International humanitarian law and international human rights law by stopping colonial ambitions of Russia.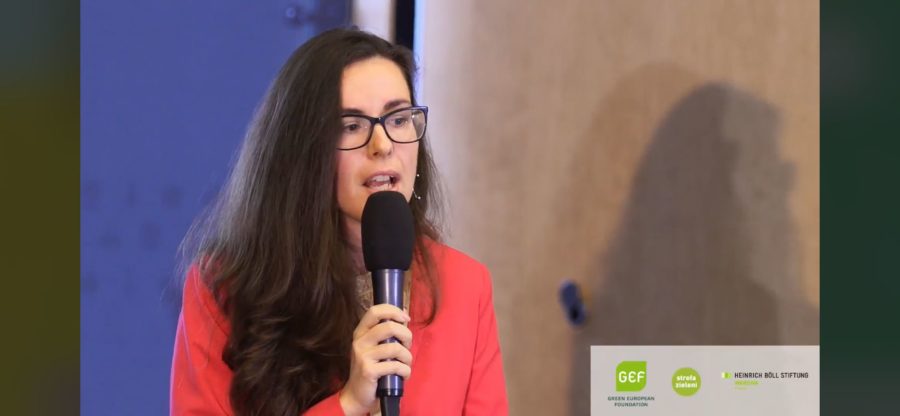 EGA brought together
 over 150 

green

 actors and engaged citizens from Poland and across 

Europe

. The 

academy

sought to be a vibrant space for learning and experimentation, delving into salient issues in Poland and Ukraine and connecting them to wider

European

-level debates via skills building, networking, and discussions. Central themes of the

academy

were Just Transition and Peace and Security, as well as important streams of work on energy and sex and gender rights.
Kurinna opened the day of the European Green Academy with a keynote speech built around the current situation in Ukraine and the ways European countries, its decision-makers, citizens, and intellectual and civil society can support its struggle. 
Kurinna told 3 very distinctive stories of Ukrainians who each his/ her way were fighting for Ukraine, its future, and the future of the state with rule of law, democracy, and human rights are key priorities. Kurinna told the stories of Roman Ratushnyi, Iryna Danilovych and Maksym Butkevych.
"Roman Ratushnyi was a young 16 y.o. boy when the Revolution of Dignity began, he was among those who attacked young people in the first days of the Revolution, fighting fearlessly for European Ukraine. He was also fighting for the green area of Protasiv Yar in the heart of Kyiv not to be destroyed by the construction of high-rise buildings organised by the oligarchs and corrupted officials. Ratushnyi was politically prosecuted, though he achieved for the green area to be saved. Rayushnyi joined the Ukrainian Armed Forces after the full-scale invasion. Roman must have been only 25 recently. Though Roman has laid down his life for Ukraine," told Kurinna.
Kurinna told about enforced disappearance and following fabricated criminal prosecution of a citizen journalist and labor rights activist from Crimea Iryna Danilovych, explaining that the Russian Federation is using the tactics of intimidation and suppression of the dessent of all active members of local communities. Currently multiplying the tactics on the territories Russia took under control after February 24, 2022. 
Kurinna told about Maksym Butkevych, a prominent human rights defender, journalist, and co-founder of ZMINA who joined the Ukrainian Armed Forces with the outbreak of a full-fledged invasion of Russia and was captured in the Luhansk region by the occupiers. Russian propagandist channels have taken advantage of Butkevych's capture to undermine his work. Propagandists have claimed that Butkevych is a nazi, as well as a punitive squad commander masquerading as an activist.  The human rights community is concerned that there is a risk that these campaigns are being used to separate Butkevych from other prisoners of war and to incriminate some false accusations, as well as torture him. "Maksym and Roman being peaceful activists had to step up and protect our democracy and our future, I believe Europe also has to mobilise all its efforts to support its values, and Ukraine fighting for them every day, " urged Kurinna.
Kurinna also updated on the gross human rights violations, alleged war crimes, and crimes against humanity that are taking place daily due to Russia's war of aggression in Ukraine.
Kurinna highlighted that Europe has shown immense leadership in responding to the global pandemic, supporting its citizens and Eastern partnership countries, and supporting vulnerable categories of the population. "I believe that Russian aggression with its colonial ambitions is a new virus, a new plague on the European continent and the security threat,  the threat to international rule of law and stability worldwide. The time has come for Europe to take leadership and help Ukraine to fight this virus," said Kurinna. 
Video-record of Kurinna's keynote speech in English with the time mark 16:32-31:00.
Reference. The Green European Foundation (GEF) is a European-level political foundation funded by the European Parliament. It is linked to, but independent of, other European Green actors such as the European Green Party and the Green Group in the European Parliament.
The mission of GEF is to contribute to the development of a European public sphere and to foster greater involvement by citizens in European politics, ultimately forging a stronger, more participative democracy. GEF strives to mainstream discussions on European policies and politics both within and beyond the Green political family. It works to create a common Green vision for Europe and to communicate this to the wider public.