How Russia deports orphanages and prisons from the occupied territories of Ukraine
As many as 6,000 Ukrainian children in boarding schools may have been deported to Russia. There, they undergo "re-education" to strip them of their Ukrainian identity, with the Russian Orthodox Church helping every step of the way, explain Ukrainian human rights defenders. In collaboration with ZMINA NGO, Euromaidan Press is holding twitter spaces with prominent Ukrainian human rights activists working to ensure Russia will not get away with its war crimes in Ukraine.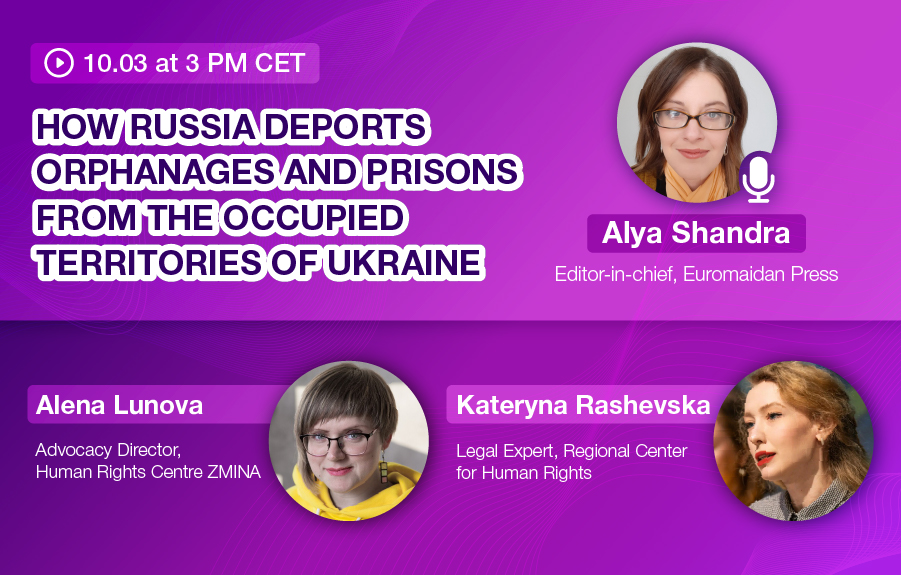 Together with Alena Lunova, advocacy director at human rights center Zmina, and Kateryna Rashevska legal expert at the Regional Center for Human Rights, we look in detail at the war crime for which the Criminal Court recently issued an arrest warrant for Russian President Vladimir Putin and Human Rights Commissioner Maria Lvova-Belova: deportation of Ukrainian children.
When Russia invaded, ZMINA and colleagues launched the 5AM Coalition, comprising 30 prominent human rights organizations and individual experts who document war crimes committed by the aggressors during this war. The name of the coalition is both reminiscent of the early morning of 24 February 2022, when Russia rained down missiles on Ukrainian cities, starting its full-blown war, and the raids on the homes of Crimean Tatars that Russia conducts at the break of dawn since occupying Crimea in 2014, breaking into homes to accuse men of politically-motivated charges that inevitably end with decades in prison.
By interviewing survivors and analyzing open sources, experts from the 5AM Coalition piece together what exactly Russia does with the thousands of Ukrainians who are deported to Russian territory, and what goal they pursue.
Can you start by giving us a brief introduction about yourselves, your organization, and how you work in the Ukraine 5 AM Coalition? Also, how do you document Russian war crimes?
Alena: Hello everyone, I'm the Advocacy Director of Human Rights Zmina. Our organization for more than 10 years has been working in the sphere of human rights protection in Ukraine since the beginning of the full-scale invasion in last February. We, with our colleagues, started the Coalition of Human Rights Organizations called Ukraine 5 AM Coalition. Now, our members count more than 30 prominent human rights organizations and individual experts. We work with different issues and try to document war crimes which Russia has committed during this war. Deportation is the most probably widespread war crime committed by Russians during this war, and we try to document it through interviews with the survivors and also through analysis of open data sources, trying to find out what exactly Russia does with our citizens when they are deported to the territory of the Russian Federation. Also, we try to monitor Russian officials' websites, propaganda channels in order to understand the idea and goal of the deportation because it's the main question: why they try to deport all those people, all thousands of Ukrainians from the territory of Ukraine to the territory of Russian Federation.
Kateryna: Hello, I'm Kateryna Rashevska, a legal expert at the Regional Center for Human Rights. Our organization was created in 2013 in Sevastopol, but we had to move to Kyiv due to the fear of persecution after the occupation. Our organization is mainly composed of professional lawyers, and we focus on the legal issues related to the occupation of the Crimean Peninsula. We've submitted 14 communications to the International Criminal Court (ICC) and protected victims of mass human rights violations and international crimes in the European Court of Human Rights and the United Nations Human Rights Committee. Since the beginning of the large-scale invasion, we have expanded our activities to document war crimes, crimes against humanity, and even elements of genocide.
However, we not only document these crimes, but we also provide legal analysis and advocate for a victim-centric approach in the accountability and compensation processes, ensuring non-repetition. Our 15th communication to the ICC is related to the forcible transfer of Ukrainian children to Russian families, and we also deal with cases of deportations and forcible transfer of Ukrainian minors to Russia and the territories controlled by Russia.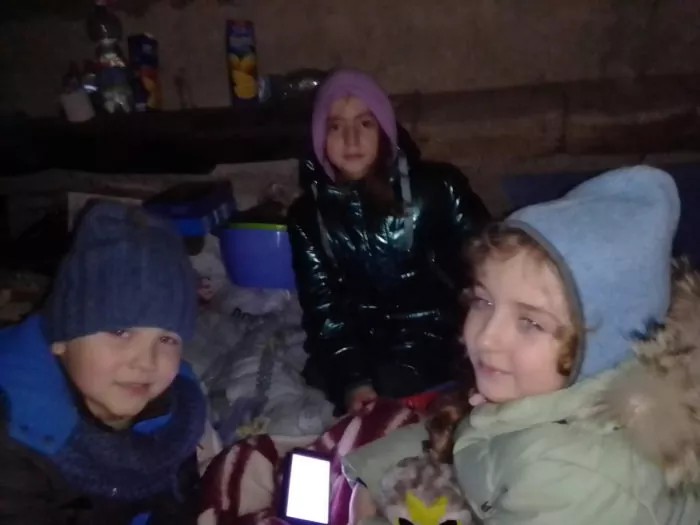 There's been talk about creating a tribunal for the Russian leadership. Is your organization involved in such plans?
Kateryna: Yes, we're involved in advocating for creating a tribunal with jurisdiction and competence. We're providing analytical materials to the international community and our national competent bodies to help make this tribunal a reality. We don't have enough time to wait since Putin and other high-ranking officials in Russia are aging, and we need to ensure justice for the victims of their crimes.
Moving on to today's topic about deportations, Kateryna, can you tell us about the state of the case, where deportations are happening, how many Ukrainian citizens are affected, how many have been deported to Russia, where they go, and how difficult it is to know the exact number of people who have been deported due to the difficulty of penetrating the occupied territories?
Kateryna: We believe that deportations are the most massive international crime committed by Russia on the territory of Ukraine. Unfortunately, we don't have our own source of information on the number of people who have been deported since we don't control the part of the Russian-Ukrainian border where most deportations occur. According to UNHCR data, 2.8 million Ukrainian citizens are registered in Russia, while Russia claims that more than 5.3 million Ukrainians, including over 700,000 children, have arrived from Ukraine.
We don't know the exact number of people who have been deported or how many are on the territory of the Russian Federation, but we know that Russians are trying to deport as many people as possible and create an atmosphere of fear in the occupied territories. Deportations have occurred in various oblasts, including Kyiv, Sumy, Chernihiv, Kharkiv, Donetsk, Luhansk, and Kherson, all of which were under control of Russian troops at some point.
So you're saying that Russia's main goal is to instill fear and intimidate the population. What about population replacement? Is Russia trying to replace active Ukrainians with Russians?
Kateryna: Yes. Among the deported children, there are different categories of minors, including orphans and children without parental care. We will discuss this issue during our event today. When we talk about Russia's main goal, Putin mentioned in January 2023 that there is a huge demographic problem in the Russian Federation. So, they might want to ameliorate the situation using, for example, our children. Of course, the main goal is to eradicate the Ukrainian national identity in newly occupied territories and territories under occupation since 2014. Additionally, they want to create additional value for the future through the process of Russification, militarization, and indoctrination, potentially provoking internal conflict among indoctrinated children who grow up to be adults. We need a reintegration policy for these children and displaced adults who were taken to Russia or territories under Russian control.
What is the scale of deportation? Is it thousands or millions?
Alena: We know that thousands of Ukrainians have been deported from closed institutions, and we have some information about the number of people who crossed the Ukrainian-Russian border. However, we don't know the exact number of people currently in the Russian Federation. At the beginning of the full-scale invasion, Russia created over 500 accommodation points for Ukrainians on their territory and in occupied Crimea. According to Russian sources, there are 40,000 Ukrainians in these centers. There's a gap between the millions Russia claims to host (around 5.3 million) and the 40,000 who need accommodations. It's tough to know the number of all people who have been deported.
What place does the deportation of closed institutions have in this picture? And what are these closed institutions? 
Alena: I can start with children, orphans, and those deprived of parental care who were in special boarding institutions since the beginning of the large-scale invasion. They were the first victims of this policy of the Russian Federation, as children were deported to Russia even before the invasion.
Since February 18, the number of these children deported to Russia has risen from 2,500 to possibly 6,000 children. I provide you with this number because it's not frequently mentioned. The number 2,500 was often repeated by Ukrainian high-ranking officials and can be found in Russian sources. If we calculate the number of children in 702 special boarding institutions before the large-scale invasion and compare it with the number of children evacuated by the Ukrainian side, the difference is 6,000 children.
Regarding institutions for adults: in Ukraine we have special institutions for adults, geriatric institutions, and institutions for adults with physical and psycho-neurological diseases. We know about several of those institutions that have been deported from the territory of the Kherson region. Russians deported three penal colonies with at least 2,500 people from the Kherson Oblast. All those prisoners are now in prison in the territory of the Russian Federation in the Krasnodar and Stavropol regions.
Kateryna: This policy of deportations of prisoners started in 2014, with the beginning of the occupation of the Crimean Peninsula. As of today, at least 15,000 prisoners only from the Crimean Peninsula have been transferred to 38 regions of the Russian Federation, to at least 102 colonies and detention centers. Ukraine repatriated only 12 prisoners in 2017 thanks to some political mechanism. It's very difficult to return Ukrainian prisoners because they are also victims of forcible passportization, recognized forcibly as Russian citizens, and now the Russian Federation refuses to return them. The same situation is, unfortunately, with children in closed institutions, as they were also forcibly recognized as citizens of the Russian Federation.
What goal do they pursue with deporting prisons?
Kateryna: There are some objective reasons, such as the lack of enough number of detention centers in Crimea or other occupied territories. The Russian Federation, especially private military initiatives, tries to draft these people into the Russian army, special forces, to use them against their own nation. They want to use them as cannon fodder.
How does the deportation process look like, and what institutions are involved along the way? I've heard that the Russian Orthodox Church is involved in settling these deported Ukrainians in Russia. Does that correspond to your data?
Alena: As I mentioned before, the deportation process for orphanages and other special institutions started even before the large-scale invasion. Our children were deported to at least 57 regions of the Russian Federation, including regions far from Ukraine, which is prohibited under international law. They were transferred to places like Murmansk, Sakhalin, Siberia, and Vladivostok.
Unfortunately, these children are at a high risk of being forcibly transferred to Russian families. As of 2022, we recorded at least 400 cases of illegal establishment of foster care. Since October 2022, there have been no obstacles to adopting these children. The total number of children transferred to Russian families is unknown because the adoption process is under secrecy according to Russian legislation. Additionally, after this process, parents change the personal data of these Ukrainian children, making it difficult to identify them.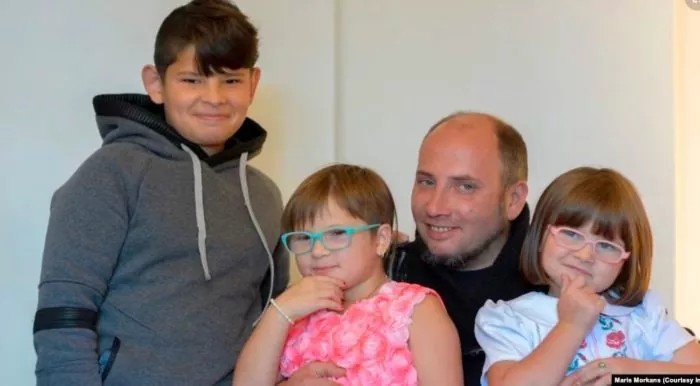 Teenagers were also first transferred to special re-education camps. The idea was to re-educate these children and try to eradicate their national identity. Conditions in these camps are very difficult. We know that in this deportation process, not only Maria Lvova-Belova, the Russian children's ombudsman, but also at least 28 regional ombudsmen participated. We are also aware of the role of Russian governors, with at least 16 of them involved, some of whom are now under European Union sanctions.
Regarding the Russian Orthodox Church, they play a crucial role in this process. They even created a special unit within their institutional system to find Russian families for these children and facilitate the process of legal adoption. The Russian Orthodox Church encourages Russians to adopt these children and encourages the children to accept the process. They also participate actively in the so-called studies for future families for these kids. These meetings with representatives of the Russian Orthodox Church are an essential component of this policy of re-education of Ukrainian children. When there are no other families for these children, they are transferred to the families of Russian priests. The Russian Orthodox Church plays a significant role in religious propaganda by eradicating Ukrainian national identity.
Do you know what happens in the re-education camps? What do they try to do with the kids?
Alena: I had several meetings with children who returned to Ukraine thanks to private initiatives and our civil society. These children, aged 10 or 11 years, don't understand clearly that they are victims of this crime, that they were first transferred and then detained in these camps. They were prohibited from speaking Ukrainian, taught to love the Russian Federation, sing the Russian anthem, and were militarized.
The situation with teenagers is more difficult because they were also prohibited from speaking Ukrainian, but they refused to accept this rule. They were punished, sometimes in groups, because they refused to sing the Russian anthem, which they were forced to do multiple times per day. They were also treated poorly by Russian teenagers, as they were detained together, which violates international humanitarian laws. These children were called derogatory names and faced mistreatment.
The children were deprived of mobile phones, so many parents didn't know where their children were. This was a significant problem. The Russians may claim that they are taking these children to safety or relocating other closed institutions for their safety, but the reality is different.
I'm sure the Russians will claim they are taking these children to safety, and the same for other closed institutions. But how do human rights organizations prove that this is actually a deportation? Are there any conventions that prohibit such acts during war?
Alena: We know this is deportation because we try to qualify those actions. The Russian side usually says it's an evacuation to save children and adults. They provide buses or ways to let them go to the Russian Federation. However, all humanitarian corridors connecting the occupied territories and the territory under the Ukrainian government's control have been closed. People have only one way to escape the occupied territories, which is to go to the Russian Federation. The atmosphere of fear in the occupied territories also plays a role, as people are sometimes directly threatened that they will die under shellings or be killed by Ukrainian troops.
We document different kinds of evidence to show that it's not an evacuation but a deportation, as it happens under fear and threat. It's not an evacuation for those in closed institutions because they can't choose anything; they're under full control of the occupied authorities. The Russian Federation is trying to manipulate provisions of the Geneva Convention and Additional Protocol One. If it were an evacuation, the Russian Federation should provide the ICRC with a detailed information card for each child deported. But there are no such cards, and the Russian Federation refuses to provide free access to this process or safe access to humanitarian corridors for the Ukrainian side.
This is not an evacuation according to international humanitarian law; it's a war crime and a crime against humanity. Deportations and transfers occur even when parents give consent, but we must consider the scope and conditions of this consent. The consent doesn't include keeping children in the Russian Federation for months without informing the parents. Some parents were threatened or persuaded by Ukrainian collaborators to give consent, but it's not informed consent, which is required by international law.
Let's discuss the so-called re-education camps. Can we just call them brainwashing camps? Do you think they can actually succeed in teaching children to hate Ukraine?
That's an interesting question. To understand this, I would need to have meetings with not just some returned children but all of them, or we should carry out an analysis. Without this analysis, it's difficult to draw conclusions. However, I think that if these children are in the territory under the control of the Russian Federation, they are being educated according to the Russian curriculum, which means they are being indoctrinated. We need a special reintegration program for them.
When we talk about children who have been in these camps since 2013, high-ranking officials from Belarus have said that children from the so-called "Donetsk and Luhansk People's Republics" were in Belarusian sanatoriums and camps not only since 2022 but also since 2021. This process also took place in Russia, so it started even before the large-scale invasion. They tested this program to indoctrinate our children. With the instruments and means of Russian propaganda, they can, unfortunately, achieve some results.
These children, particularly those around 10 or 11 years old, returned from these camps with presents from the Russians. They were happy, as I already mentioned, not understanding that they were victims. This is a problem.
Could you walk us through the story of a child that returned?
Kateryna: One girl's story was very impressive. She is 10 years old and was transferred to different camps in Crimea. She cried every day and night, wanting to be with her mother. Her return process was very difficult, with obstacles created by the Russian Federation. She refused to speak Russian and was punished by the Russian monitors. I can understand the fear of not knowing when you will be returned home. Her story is really great.
So, Belarus is involved in this process of deportation as well, right?
Alena: Yes, there are at least four camps and sanatoriums in Belarus. During 2021-2022, at least 5,000 Ukrainian children from the so-called DPR and LPR were in these camps. They have the same re-education program as other Ukrainian children in Crimean camps or Russian camps because this process of their indoctrination in Belarus is directed from the Kremlin and all financial resources are also from the federal budget of the Russian Federation.
Alena: We work with different cases of providing a way home for those who have been deported to the territory of the Russian Federation. Firstly, the question of documents, because it's often the situation where children do not have any documents, like a birth certificate or passport, which can provide the possibility to cross the border. But I want to share with you one unsuccessful story without a happy ending now. We know about a case where a boy, 13 years old, was severely injured during the evacuation from the Rubizhne region. The convoy in which they tried to reach the Ukrainian government-controlled areas was under shellings, and his mother and little brother were killed. The boy was forcibly displaced in the territory of the Luhansk region, which has been under occupation since 2014. For five months, we can't take him back because he has just an aunt in the territory of Ukraine, and she is quite ill. She can't go through the territory of the Russian Federation to go to the Luhansk Oblast to take him back. Right now, he's still in the territory of the Luhansk Oblast in the hospital, and he's pretty alone there, but nobody can bring him back because his only close person can't go and take him back.
This boy in the hospital right now, is he at risk for being adopted by Russians?
Alena: Right now, he is not in the process of adoption. Probably a neighbor of his family will officially take care of him, but he likely won't be adopted. I hope that he won't be adopted in the Russian Federation, and I hope his aunt will get better and bring him back to Ukraine.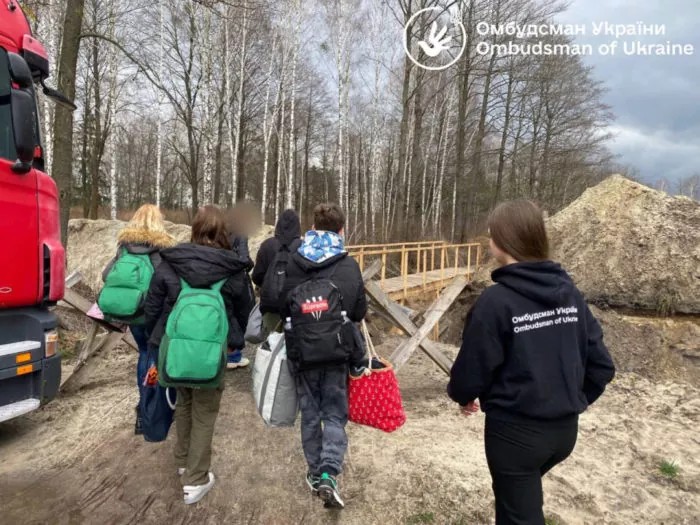 Is there any hope for repatriating deported Ukrainians back to Ukraine, the ones that are far away from Ukraine now, the ones that were transported into various regions and maybe even adopted? 
The process of repatriation is indeed a complex and challenging one, given that thousands of children have been deported to Russia, and so far, only 308 children have been returned. While there are private initiatives and the efforts of civic society, there is no unified legal or political mechanism to bring children back in groups. The Russian Federation is known to manipulate the status of these children, making it even more difficult for them to be returned to their families in Ukraine.
Nonetheless, the 5AM coalition strives to develop a mechanism for repatriation, rehabilitation, and reintegration of these children according to international standards.
As for preventing further harm, there are concerns that these children and teenagers may be forcibly conscripted into the Russian army in the future. Public communication and discussions on various levels, including the ICC and the European Parliament, are essential in addressing the issue of deporting Ukrainian children as a war crime.
To help victims and prosecute perpetrators, Ukraine must take on several tasks. Firstly, it needs to establish a competent body to develop a legal mechanism for repatriating children in groups. Additionally, Ukraine must create a policy of support for parents who are attempting to return their children, providing them with legal, financial, and psychological assistance.
Furthermore, Ukraine should work on improving the status of child survivors of armed conflicts in their legislation, ensuring that they receive proper repatriation, rehabilitation, and reintegration support. This includes creating safe spaces for these children to recover from their traumatic experiences.
Bringing perpetrators to justice is also a priority for Ukraine, but with the current overloaded national system, handling the large number of cases may prove difficult. International cooperation will be essential in this regard.
Lastly, Ukraine should work with international governments and the European Union to freeze and recover assets of the Russian Federation, using these funds to compensate victims and help them recover from their harrowing experiences. In this way, Russian money can contribute to the healing process for these victims.
Source: Euromaidan Press