Russia illegally detains ~25,000 Kremlin prisoners
According to the Ukrainian Parliament Commissioner for Human Rights, Dmytro Lubinets, this is the number of civilians abducted by the Russian Federation.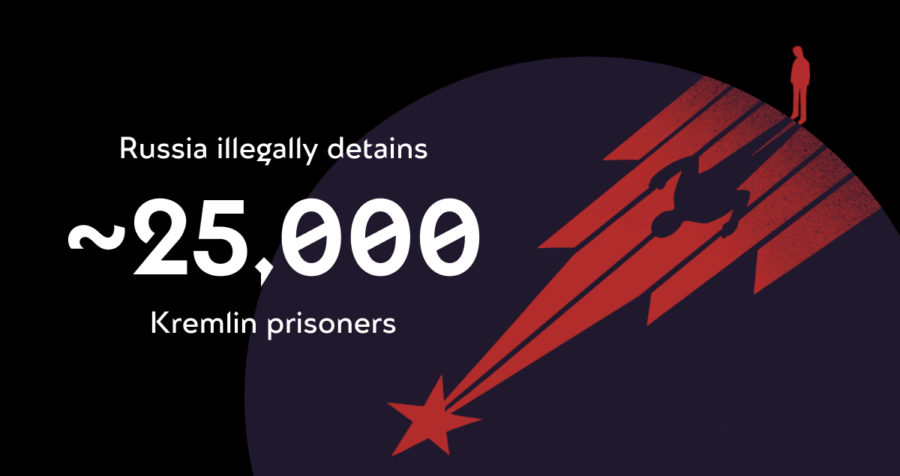 Human Rights Centre ZMINA has found that at least 21 prisoners require urgent medical care; otherwise, they may die.
During the full-scale invasion, the National Police began investigating the enforced disappearance of 8,800 people. Russian Children's Ombudsman Maria Lvova-Belova claims Russia has illegally abducted over 700,000 children from Ukraine.
The Media Initiative for Human Rights has identified about a hundred places where abducted civilians are held.
The Mission of the President of Ukraine in the Autonomous Republic of Qırım confirms 182 illegally imprisoned Ukrainian citizens, 60% of whom are Qırımtatarlar.
During the full-scale war, 2,576 Ukrainian citizens were returned to Ukraine, including 144 civilians.
Russian security forces transferred prisoner Iryna Danylovych deeper into Russia
Since August 9, the woman has been held in Zelenokumsk, Stavropol Krai, where a women's colony is located. She has not been provided with medical care.
Her father, Bronislav Danylovych, told Crimean Solidarity about the transfer.

It will be recalled that Danylovych is a civil activist from the temporarily occupied Kefe (Feodosiia). She was detained in April 2022. Since then, the woman has been in captivity but not provided medical care, leading to her developing an ear disease.
During the transfer, the pain in her head and ear intensified. While in the colony, the prisoner turned for medical help once again. An employee of the colony's medical unit replied that the pain would disappear when the woman lost her hearing, Bronislav Danylovych told the ZMINA Human Rights Centre.
Russian security forces humiliate Qirimli Eldar Kantymirov because of his origin
The prison wardens in Dmitrovgrad, where the prisoner is being held, humiliate the man on ethnic grounds.
His wife, Elvira Useinova, told about this to Crimean Solidarity.

The Russians violate the prisoner's rights: they do not hand over the prisoner's deliveries and refuse his requests to accept a complaint. Useinova was forced to appeal against the jailers' actions on her own.
It will be recalled that Kantymirov is a prisoner of the Kremlin who has been in Russian captivity since 2019. He was falsely convicted in the case of the so-called 'Aluşta Hizb ut-Tahrir group'. He was charged with terrorism and sentenced to 12 years in prison.
Russian security forces plan to use his own mother against prisoner Kyrylo Barannyk
They have scheduled the interrogation of the mother for August 16. The woman may become a witness in the criminal proceedings against her son.
The Human Rights Initiative Avtozak LIVE's report evidences this.

It will be recalled that Barannyk is a temporarily occupied Aqmescit (Simferopol) resident and a Master of Sports in orienteering. In 2016, he participated in an international competition under the Ukrainian flag.
On May 30, 2023, Russians detained him in the temporarily occupied Aqmescit. During the first interrogation, Barannyk admitted that he had damaged the railway tracks near Poshtove. However, the Russians tortured him anyway, forcing him to take responsibility for other sabotage. The security forces kicked him, injured his ribs, tortured him with electric shocks, and threatened him with rape with a stick.
Human Rights Centre ZMINA has published a list of Kremlin prisoners whose health is at risk
The list includes 21 prisoners held in Russian captivity and deprived of medical care.
The Centre's report evidences this.
Svidomi has already reported about Servert Haziiev, Volodymyr Dudko, and Emir-Usein Kuku. At the same time, the list also includes those political prisoners whose lives were threatened while there was less information about them:
Rustem Murasov, sentenced to 12 years in prison, does not receive the medicines necessary to prevent his chronic illness from progressing.
Enver Omerov, sentenced to 18 years in prison, has several chronic illnesses, but the Russians ignore all requests for medical care.
Ihor Kiiashko, sentenced to eight years in prison, suffered prolonged limb cramps due to chronic thrombophlebitis but did not receive medical care.
Read the article: Svidomi