The kidnapping of Ukraine's 'Angels of Taira' medic
The husband of decorated volunteer medic Yulia Pajevska who was abducted in mid-March shares his fears for her safety.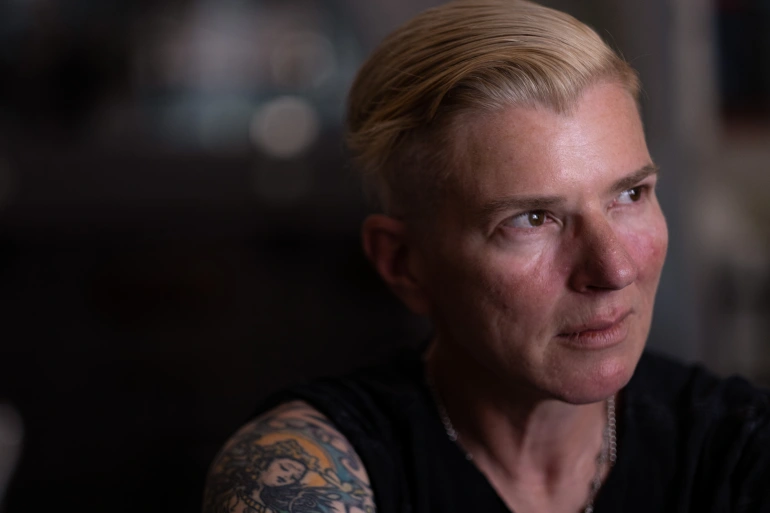 In the days before Yulia Pajevska, 53, was abducted by Russian-backed separatists, the decorated Ukrainian volunteer medic had been evacuating Ukrainians from the besieged city of Mariupol.
Her husband, Vadym Puzanov, had only had brief contact with Pajevska through messages and short videos when the patchy internet and her hectic schedule allowed for updates about the dramatic evacuations and airlifts she had been organising in the southeast of the country.
Puzanov found out about his wife's abduction when his friend rang him to say he had come across a video uploaded onto Facebook by a former Ukrainian politician which claimed that Pajevska and her driver Serhii were illegally detained at a checkpoint near the town of Manhush in the Donetsk region on March 16. "At first I was shocked and couldn't believe it," Puzanov recalls.
According to Puzanov, who is currently in the Ukrainian capital Kyiv, Pajevska and Serhii had been evacuating women and children along a so-called humanitarian corridor between the southeastern cities of Mariupol and Zaporizhzhia when they were stopped and detained.
On March 17, a friend sent him a link to a video released by the interior ministry of the Russian-backed self-proclaimed Donetsk people's republic, which appeared to show Pajevska in a lineup at a police station.
Then at 2pm on March 18, Puzanov received a chilling text message sent from his wife's phone offering to exchange Pajevska for Russian prisoners of war kept by Ukrainian forces in Mariupol.
He immediately contacted Ukrainian government officials. "After the initial state of stupor had worn off, I felt an urge to act immediately and do everything possible to free my wife," he says.
On March 24, a trailer was released by Russia's Gazprom-Media's NTV, which appeared to advertise an interview with Pajevska. Three days later, the full programme, filmed at an undisclosed location, was aired.
The opening segment, broadcast for a Russian audience, claims that supposed Ukrainian neo-Nazis are killing fellow Ukrainians. About seven minutes in, Pajevska is seen being led into a darkened room with a bag over her head. A member of the television crew lifts it off, and a bright light is aimed at her face, briefly startling her before a series of degrading comparisons are made about her appearance, including showing an image of her next to one of Adolf Hitler.
A voiceover added in post-production continually interjects after Pajevska's answers, countering her comments with unfounded claims, including that many of the soldiers and volunteers she was acquainted with were Nazis, and often referring to Pajevska in explicitly derogatory language including comments comparing her eyes to that of the devil.
Puzanov saw that his wife looked exhausted throughout the interview. "I even noticed a big bruise around her right eye, her reactions were a bit slow. Sometimes she made unnaturally long pauses as if she was choosing her words very carefully," he says.
Puzanov is disgusted at the contents of the broadcast. "I just can't comment on these filthy lies," he says speaking over the phone from Kyiv. "It's enough to say that Russian propaganda accuses Yulia of all possible sins and crimes and makes an absolute evil out of her. The level of cynicism of the authors is just unimaginable".
"To accuse her of professing nazism is pure madness," he says. "For the last eight years, all her life has been dedicated to saving people's lives," Puzanov says. "As for her worldview, I would say she is kind of a Buddhist."
Russian President Vladimir Putin has framed the full-scale invasion of Ukraine as a campaign to "denazify" Ukraine. Portraying any display of Ukrainian national identity as fascism is a longstanding narrative espoused by the Kremlin.
Abductions
Ukrainian human rights group ZMINA, which has been monitoring human rights abuses since 2014, has been collecting and verifying reports of abductions by the Russian side and documenting war crimes. Tetiana Pechonchyk, head of ZMINA, says Pajevska's abduction and subsequent appearance on Russian television remind her of numerous cases she has witnessed since 2014 in Crimea and the "occupied territories of the Donbas".
"People were taken by Russians and usually tortured, and then they would appear on camera and say they were saboteurs or planned some form of terrorist attack, so the Russians could continue this narrative about Ukrainian nazis," she says.
According to Pechonchyk, the formula the interview follows is in line with "fake propaganda" produced by Russia where statements made by a captive are twisted by the production team. Pechonchyk says Pajevska was taken on March 16. "We are told that when Pajevska was taken by the representatives of the so-called Donetsk people's republic that she was with two kids that she says she was driving to Zaporizhzhia but the video is formulated to make it out like she is using these kids as a [human] shield," Pechonchyk says. "They even accuse her of selling organs."
Pechonchyk says Pajevska – whose whereabouts are unknown – is one of more than 150 cases of abductions or disappearances of civilians, including activists and politicians, that they have tracked from different regions around Ukraine since Russia launched an invasion on February 24.
More: Al Jazeera