No to lynching. Human rights defenders call on law enforcement to respond appropriately to humaliation of 'looters'
Statement
by Ukraine. 5:00 am Coalition
on lynching looters
The martial law has been in force in Ukraine since February 24 due to large-scale aggression by the Russian Federation. Any war is accompanied by crimes against property (thefts, robberies, plunders, etc.) which are called "looting" in wartime.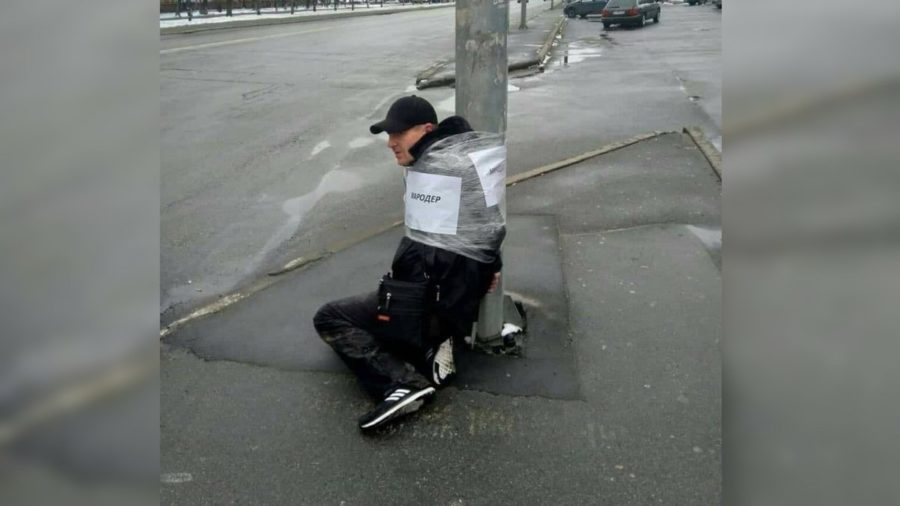 The information about the facts of looting and mass manifestations of lynching for such acts began to appear almost from the first week of a new wave of military aggression by Russia. Responding to this challenge, on 3 March 2022, the Verkhovna Rada of Ukraine passed a law to strengthen the penalty for looting during martial law: it was equated to a crime of a particularly large scale or committed by an organized group. These amendments provide for increased liability under Article 185 of the Criminal Code of Ukraine "Theft committed on a large scale or during martial law or state of emergency", Article 186 of the Criminal Code provides for punishment for robbery during martial law or state of emergency, and Article 187 provides for liability for the seizure of property during martial law or state of emergency.
Ukraine. 5:00 am Coalition welcomes the prompt response of legislators to the challenges of wartime and their willingness to rapidly draft and amend legislation. At the same time, we believe that the amendments to the Criminal Code of Ukraine alone are not enough to prevent violence and lynching suspects for "looting". There are enough videos and photos on the Internet showing that "public punishment" of so-called looters continues even in those populated localities where government agencies, including the police, are fully operational.
While in no way justifying looting or other attempts to seize property illegally, both in peacetime and in wartime, Ukraine. 5:00 am Coalition emphasizes that wartime or other circumstances do not justify lynching or physical punishment by civilians when they do not thwart a threat to life. Attempts by local communities to stop criminals on their own are an understandable and justified decision, but the perpetrators must be immediately handed over to the appropriate law enforcement agencies.
Committing violence against perpetrators, beating, undressing, painting faces, tying to poles and other manifestations of so-called public condemnation have much in common with torture and are therefore inherently criminal. At a time when our country pays a high price for its free European choice, for choice in favor of democracy and justice, such lynching practices set us back, give room to spread the thesis that Ukrainians also resort to violations during the war.
The Coalition underscores that even wartime does not justify the arbitrary use of violence and torture. At the same time, the lack of response from law enforcement agencies to such cases is a direct violation of their duty to prevent crime.
Ukraine. 5:00 am Coalition calls on law enforcement and territorial defense units to pay more attention to cases of lynching looters, to thwart them and prevent the spread of such practices, if possible to enhance patrolling of abandoned residential areas, and raise awareness of local communities, explaining the inadmissibility of such actions. The cases when such public "punishment" happens in the presence of members of territorial defense units or posted on social media sites by law enforcement officials require immediate investigation.
The Coalition also urges the representative of executive authorities and other officials to be careful about and critical of airing calls for public condemnation or other statements that may be considered as justifying extrajudicial punishments at such a stressful time.
Of course, the crimes committed by the Russian military, the daily deaths of civilians and the losses of our army, or the strife and wrongdoing by individual offenders are things that are difficult to comment on with a sober reflection and human rights approach. However, the present-day events cannot justify the escalation of violence, moreover, such ill-considered statements only increase tensions in society and harm both Ukrainian society and the reputation of a rule-of-law and democratic Ukraine.
Note: looting is not a correct term, as looting is a war crime committed exclusively on the battlefield. According to the Criminal Code, the actions of criminals in cities (which are not under occupation), where active hostilities are not ongoing, are thefts, robberies, plunders (depending on the form of a crime), which currently, taking into account the amendments to the Criminal Code of Ukraine, should be qualified as "committed during martial law", which increases liability for them.
Ukraine. 5:00 am Coalition has been working since the beginning of a large-scale Russian invasion to protect the victims of Russian armed aggression in Ukraine and to bring to justice the top leadership of the Russian Federation and the direct perpetrators of war crimes. The Coalition members are 22 organizations: ZMINA, Ukrainian Helsinki Human Rights Union, Ukrainian Legal Advisory Group, Regional Center for Human Rights, Media Initiative for Human Rights, Institute for Peace and Common Ground, "Almenda" Civic Education Center, CrimeaSOS, Crimean Human Rights Group, East SOS, Center for Social Action, Advocacy Advisory Panel, Kharkiv Institute for Social Research, DEJURE Foundation, Truth Hounds, Educational Human Rights House Chernihiv, Human Rights Center "Action", Association UMDPL, Ukraine without Torture, Human Rights Platform, Association for Development of Judicial Self-Government of Ukraine, Ukrainian Healthcare Center (UHC).
ПІДПИСАТИ