Crimea in the shadow: ZMINA and partners conduct advocacy round at OSCE Warsaw Human Dimension Conference
On 28 September 2022, the human rights organisations conducted a side event at the OSCE Warsaw Human Dimension Conference shedding light on drastic human rights violations in the temporarily occupied Crimea overshadowed by an enormous number of atrocities committed by the Russian Federation in mainland Ukraine. Ukrainian human rights defenders also conducted several advocacy meetings with diplomats.
The advocacy trip to Warsaw was arranged by Human Rights Centre ZMINA in partnership with Crimean Human Rights Group, Centre for Civic Education "Almenda", Netherlands Helsinki Committee, Human Rights House Foundation, Human Rights House Crimea, Ukrainian Helsinki Human Rights Union and World Organisation against Torture (OMCT).
The Warsaw Human Dimension Conference is organised under Poland's OSCE Chairmanship due to the fact that the Russian Federation as an OSCE participating State vetoed the annual ODIHR Human Dimension Implementation Meeting (HDIM).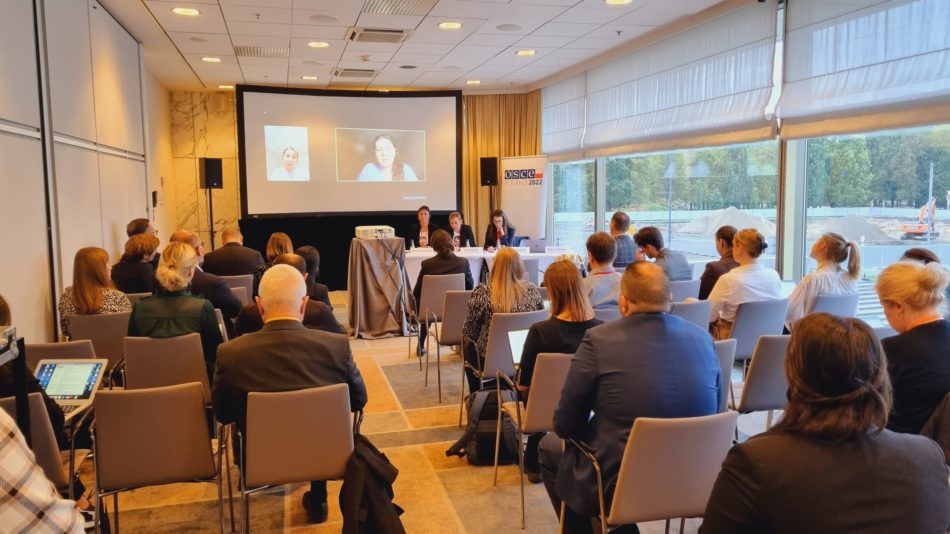 Even prior to Russia's renewed invasion of Ukraine in February 2022, Ukrainian and international human rights organisations reported serious human rights violations in occupied Crimea, including enforced disappearances, torture, politically motivated persecution of Crimean activists and human rights defenders, especially Crimean Tatars. The occupied Crimea was consistently ranked as unfree on global freedom indices and annual United Nations General Assembly resolutions pointed to ongoing human rights abuses on the peninsula. However, the situation in Crimea has not received sufficient international attention since Russia's renewed invasion of Ukraine.
Seven months into Russia's renewed invasion of Ukraine, the occupied Crimea remains a location of serious human rights violations and increasing militarisation by Russian authorities. At least 140 citizens of Ukraine have been deprived of liberty due to politically motivated criminal prosecution. Increasingly draconian laws limiting the media freedom and freedoms of assembly, association, and expression in Russia continue to be applied in the occupied Crimea.
The side event allowed civil society organisations to share new wide-ranging research and documentation on human rights violations in Crimea, including on-going political persecution, as well as the implications of increasing militarisation of the peninsula for human rights situation. It also focused on the next steps for OSCE participating States to support Ukrainian human rights defenders, civil society, and citizen journalism in Crimea, as well as reflect on the de-occupation strategy.
ZMINA's international advocacy manger Maria Kurinna drew attention to unprecedented pressure that media workers faced recently. "Many Crimeans, including citizen journalists and activists Zair Semedlyaev and Rolan Osmanov, have been persecuted in Crimea for covering the civilian casualties in Ukraine and condemning military aggression. They were arrested and all their equipment was confiscated. There are also documented cases when criminal cases were opened after such publications ", Kurinna said. 
Almenda's project manager Maria Sulialina talked about the ongoing militarisation of children in occupied Crimea and the involvement of children in activities to support Russia's war in Ukraine. In particular, in August 2022, a number of military-patriotic trainings were held in Crimea, where children were taught the basics of military affairs and how to handle weapons.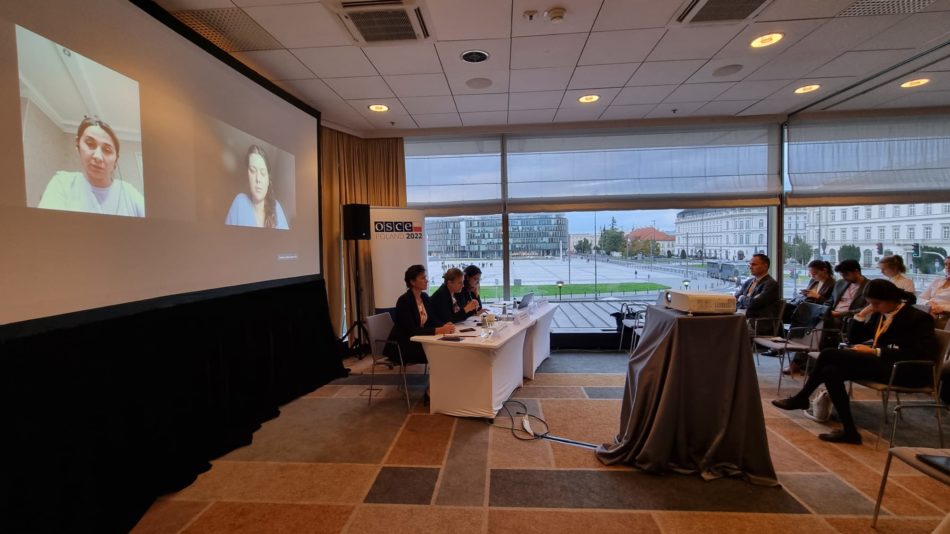 Leviza Dzhelyalova, wife of Nariman Dzhelyal political prisoner and first deputy of the Mejlis of the Crimean Tatar People, told about ruthless and unjustified sentences passed by the so-called "Supreme Court of the Republic of Crimea" on political prisoners Nariman Dzhelyal (17 years in prison), Asan Akhtemov (15 years in prison) and Aziz Akhtemov (13 years in prison).
Kateryna Yesypenko, wife of political prisoner and Crimean journalist Vladyslav Yesypenko, informed the audience that her husband had been recently sentenced to five years in prison, in fact for performing his professional duties. Yesypenko urged to support political prisoners and speak about them. She also made a conclusion that only military de-occupation could bring political prisoners home as Russian leadership refused to release them.
Iryna Siedova, analyst of Crimean Human Rights Group, presented organisation's research on hate speech in Russian-language online media, which regularly cover the armed conflict between Ukraine and the Russian Federation. "The deliberate and growing tendency to instigate hate speech and calls to exterminate Ukrainians and Crimean Tatars in Russian media may consist of a call to genocide, as well as explain why the Russian Armed Forces were so cruel towards the civilian population in Irpin, Bucha, Izyum, etc. It is worthy to admit that the call for genocide is a crime even if genocide itself did not take place," said Siedova.
Maria Kurinna made an additional statement on the gross deterioration of the human rights situation in Crimea at the Warsaw HDC session. She drew attention of OSCE participating States' diplomats to political persecution of journalists Iryna Danilovych and Vilen Temeryanov, forced mobilisation of Ukrainian citizens to the Russian Armed Forces, persecution of human rights lawyers, enforced disappearances and arbitrary detentions with the facts of torture, as well as severe sentences for Crimean Tatars activists Nariman Dzhelyal, Aziz Akhtemov and Asan Akhtemov. Kurinna asked OSCE to continue to monitor the human rights situation in Crimea and include the results in regular reports on the situation in Ukraine.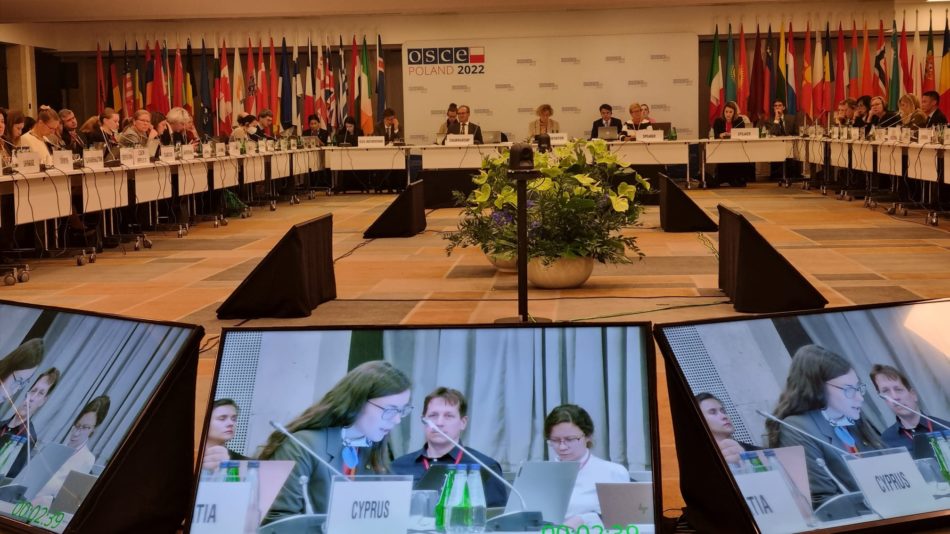 In addition, Kurinna participated in Democracy Defenders Initiative discussion as a key-note speaker. The event was organised to engage civil society of the OSCE region in a dialogue on how Russia's military aggression influence the region and particular states.
ZMINA received Democracy Defenders Award from the OSCE participating States in May 2022. Kurinna shed the light on the new findings on the human rights violations and alleged war crimes, crimes against humanity in the liberated territories of Kharkiv region and newly occupied territories, as well as Crimea.
Kurinna asked OSCE to strengthen and widen the lists of personal sanctions over human rights violations committed by the representatives of the occupying power in Crimea and mainland Ukraine. 
Ambassadors of the USA, the UK, the Netherlands, Switzerland, Montenegro, Sweden and Denmark reaffirmed their support for the Ukrainian human rights community and the Ukrainian people and intention to put pressure on the Russian Federation until all unlawfully detained Ukrainians are released.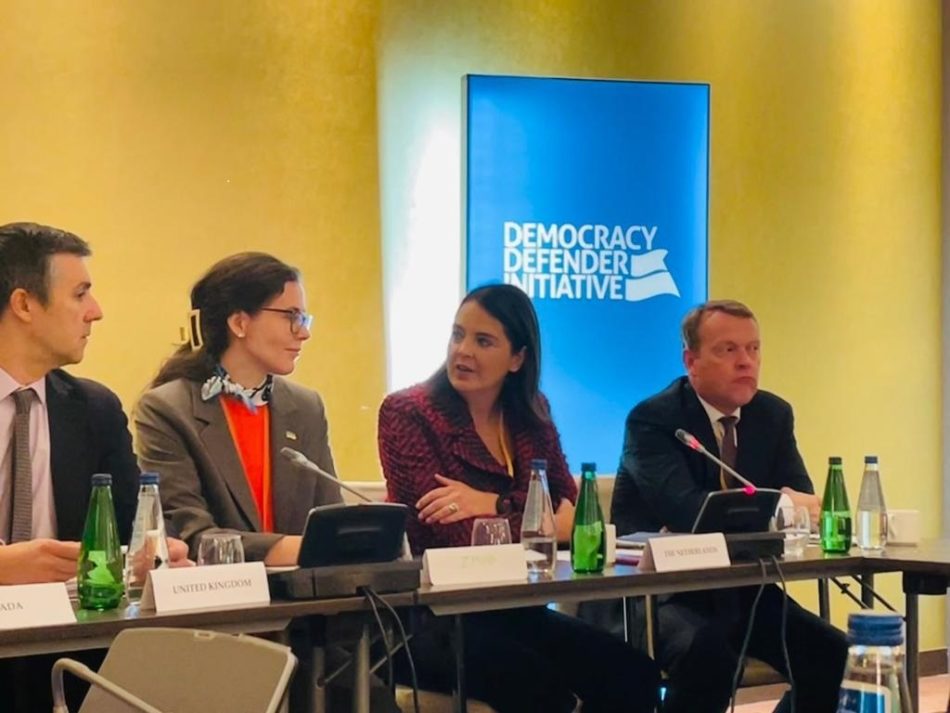 ZMINA's representative was also a speaker at the OSCE side-events "Establishing truth and enabling accountability: the role of journalists in uncovering human rights abuses and international crimes in times of war" and " Threats to life and safety of journalists, bloggers" organised by the OSCE Representative on Freedom of the Media. Maria Kurinna presented the documented cases of attacks on editorial offices of local media, enforced disappearances of journalists, casualties among journalist since February 24th, and political persecution of journalists in the temporarily occupied Crimea.
Kurinna talked about cases of Vladyslav Yesypenko introducing Kateryna Yesypenko to the panel and the audience and asked OSCE to provide informational support in drawing attention to any case of threat, attacks and casualties of journalists in Ukraine and cooperate closely with the Ukrainian human rights community. 
Ukrainian delegation of human rights organisations met with Human Rights Ambassadors of Sweden and Finland, as well as Ambassadors of the UK, the USA, Germany, Switzerland, the Netherlands, Poland, Norway, and international organisations to present their reports and new findings and advocate the release of all political prisoners and the support for the campaign on Ukrainians missing and/-or facing enforced disappearances. 
Kateryna Yesypenko advocated for all unlawfully detained and politically persecuted journalists to be released and for their families to be supported for their families. Various OSCE participating States' missions met with Yesypenko and promised her to continue to raise the cases of imprisoned journalists on the highest level, include their names in resolutions and support the families of political prisoners.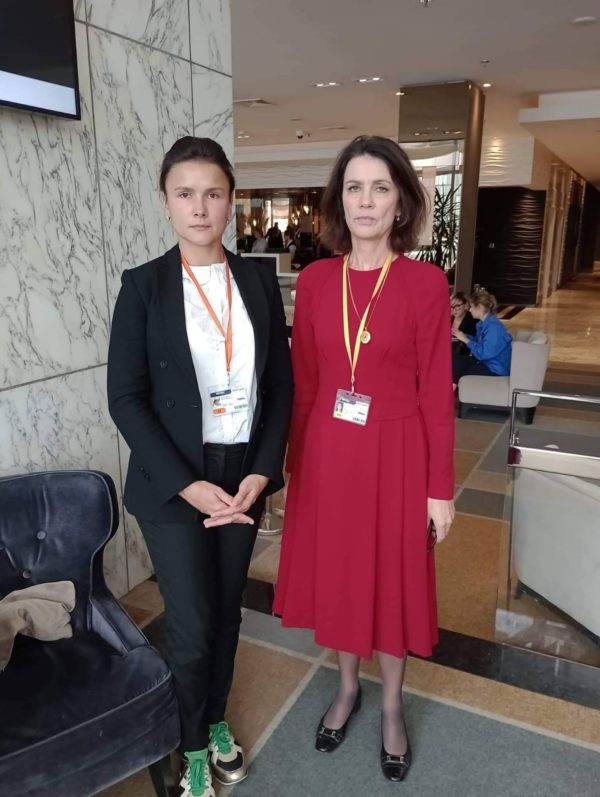 Kurinna also spoke at the OSCE side-event "Documenting and analysing serious human rights violations to ensure effective and impartial justice for the atrocities" organised by Norwegian Helsinki Committee. Kurinna presented the efforts of Ukraine 5 AM Coalition that document war crimes and crimes against humanity and human rights violations to bring perpetrators to justice. Kurinna advocated for establishing Special Tribunal on the crime of aggression and support monitoring, documenting, investigating alleged war crimes and other international crimes.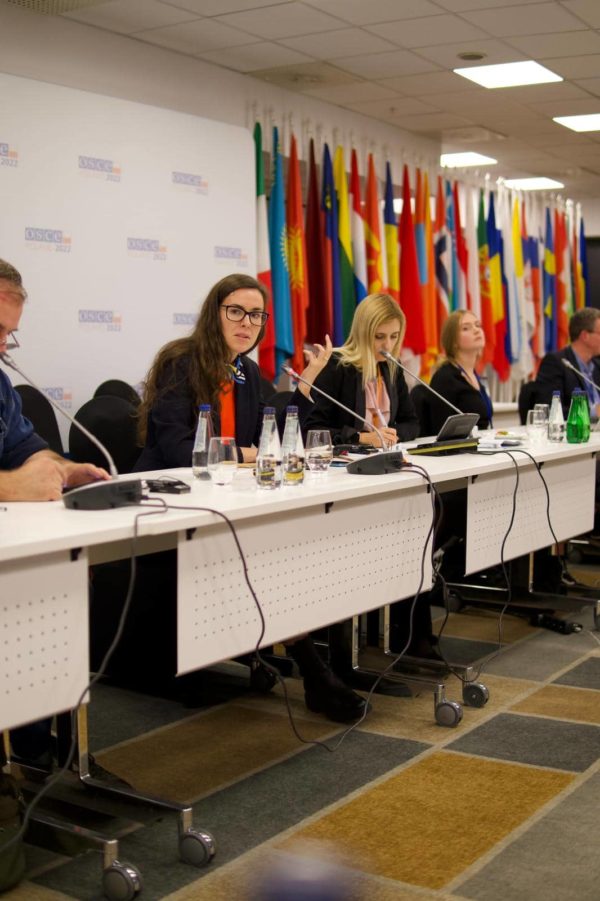 Background: OSCE Warsaw HDC is a 10-day conference dedicated to discussions on the condition of human rights and fundamental freedoms in the OSCE area. The conference provides a platform to evaluate the implementation of the OSCE Human Dimension commitments, and offers meeting space for its participants to present their recent work and flag the issues that they feel need the urgent attention of the international community. During plenary sessions, participants have the opportunity to address the entirety of the OSCE human dimension commitments: Democratic Institutions, Rule of Law, Tolerance and Non-Discrimination, Fundamental Freedoms and Humanitarian Issues.