'Deportation of Ukrainians to Russia and ORDLO: to leave for Russian so as to servive
On April 22, 5 pm Kyiv time, Twitter spaces will take place to discuss the deportation of Ukrainians to Russia and temporarily occupied regions of the Donetsk and the Luhansk regions (ORDLO) and the impossibility to leave those territories. Twitter spaces which will be held by the Media Initiative for Human Rights.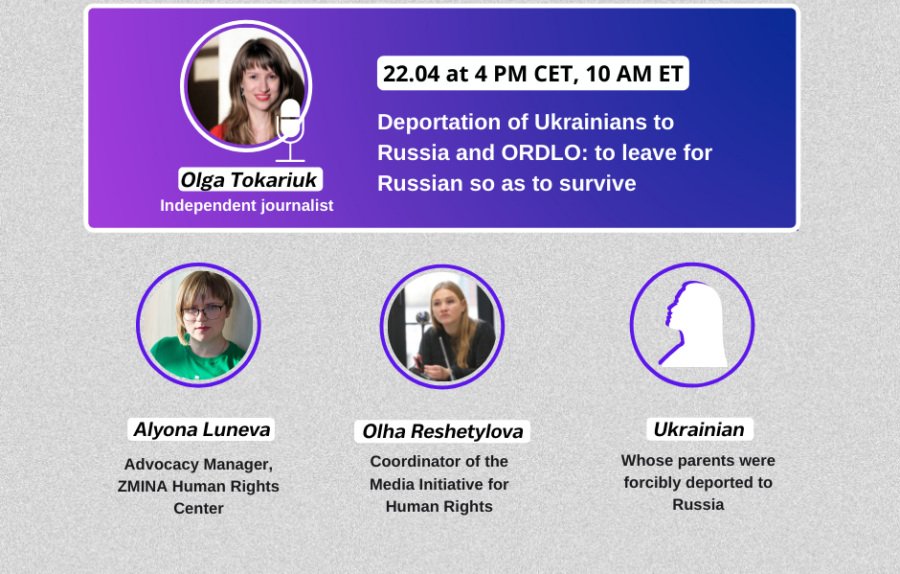 They were deported to Russia, but there was no way to leave it. The parents of our interlocutor, who will be a speaker at Twitter Spaces this Friday, occured in this situation. They hoped to be able to travel from Russia to a third country, but the plan didn't become reality – there were problems with documents.
The practice of forcible deportation of Ukrainians to russia and the ORDLO territories was started by the russian militaries in 2014 and keeps being implemented in the newly occupied territories. Different number of deportees are announced, but it is difficult to say the exact amount because deporties are not registered in Russia.
The eyewitnesses say that the russian militaries are creating conditions in which the only way to survive is to go to Russia and ORDLO. Particularly, they're shelling humanitarian corridors and not letting humanitarian aid come to the city. MIHR recorded such cases in Mariupol, Chernihiv, Rubizhne, and Hostomel. Then the russian military sets up filtration camps for Ukrainians, where they conduct interrogations and collect personal data.
Why some Ukrainians are not able to leave russia after the so-called evacuation, what occurs in filtration camps, and what rights the russian military is violating deporting people to russia and ORDLO – we will talk about this on Twitter Spases on Friday at 5 pm.
The speakers are:
Alyona Luneva, Advocacy Manager, ZMINA Human Rights Center;
A Ukrainian woman whose parents were forcibly deported to russia;
Olha Reshetylova, Coordinator of the Media Initiative for Human Rights;
The event will be moderated by the independent journalist Olha Tokariuk
Please, follow the announcements on our Twitter: @MediaInitiativ1
Link to the ether is here: https://bit.ly/3voGIco