German Foreign Affairs Minister meets with human rights defenders and victims of enforced disappearances in Kyiv
German Foreign Affairs Minister Annalena Baerbock met with representatives of human rights organizations, as well as relatives of civilian captives and those who went through captivity, during her visit to Kyiv on September 11. This is her fourth visit during the full-scale war unleashed by Russia against Ukraine.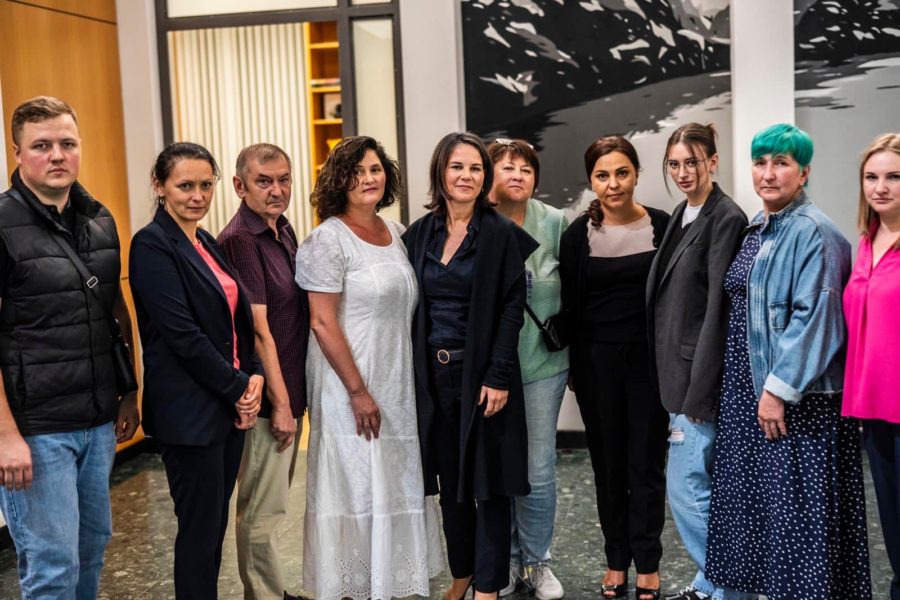 The purpose of her visit a week before the start of the UN General Assembly in New York is to demonstrate solidarity with Ukraine. Upon her arrival, Baerbock promised that Berlin would continue to support Kyiv in the face of Russian aggression and on its path to the EU and emphasized the importance of justice in connection with war crimes. 
The meeting with Annalena Baerbock was attended by Head of Human Rights Centre ZMINA Tetiana Pechonchyk; co-coordinators of the Media Initiative for Human Rights (MIHR) Olha Reshetylova and Tetiana Katrychenko; victims of enforced disappearances and torture Olha Cherniak, Oksana Zayaryna, Oleksandr Hunko; relatives of civilian captives Yulia Khrypun, Olena Rudenko and Illia Honchar. 
Tetiana Pechonchyk emphasized that the Russian Federation had been systematically practicing enforced disappearances and unlawful detentions of civilians in the occupied territories since 2014. Thus, during the first years of the occupation of Crimea, the occupiers kidnapped 43 people, most of them Crimean Tatars. After the war in Donbas started, there were hundreds of enforced disappearances, many people were held and tortured in the premises of Izolyatsia prison. 
Since the beginning of the full-scale war, the practice of enforced disappearances and arbitrary detentions has already affected thousands of civilians in the newly occupied territories. 
"The number of crimes increases with each new round of Russian aggression. Russians do it because they can, because they feel completely unpunished and know that they will get away with it," she added. 
The human rights activist noted that it was currently difficult to name the exact number of victims of enforced disappearances and unlawful detentions, but ZMINA alone had recorded the abduction of more than 560 citizens, including volunteers, educators, journalists, and representatives of local self-government bodies. MIHR also has data on the abduction of more than 1,000 Ukrainians.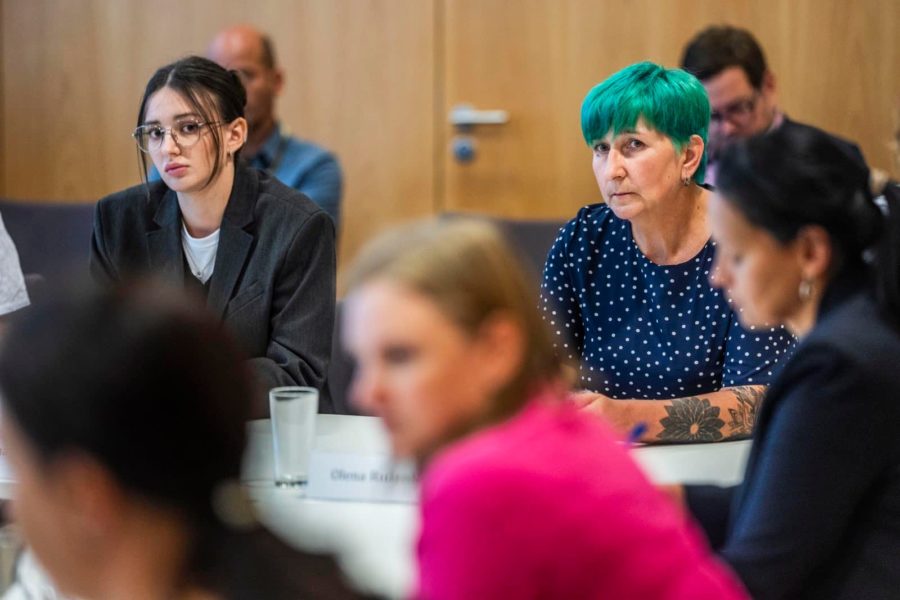 According to Pechonchyk, the victims are most often held captive incommunicado, without notifying their relatives. According to Human Rights Centre ZMINA, in the cases documented by the organization, more than 80% of victims reported being beaten and half reported being tortured with electric shocks. 
Olha Cherniak was an employee of the Korabelnyi District Council of Kherson City. The Cherniak family – mother, father and son – were kidnapped by Russians from their Kherson apartment in August 2022. On the same day, they were taken to a temporary detention center. The son was released in 15 days, the father in a month, and the mother spent 280 days in captivity. Olha Cherniak told Annalena Baerbock that in captivity she had been tortured with electric shocks until she lost consciousness and had been forced to listen to how her 19-year-old son was being tortured with electric shocks. After her release, she found out that her husband had also survived torture. The Russians also threatened to rape her relatives, the woman constantly heard other people screaming while being tortured. 
The conditions of captivity were horrible. During more than half a year of stay in Novotroitske, the women were taken to have a shower about three times, and the women constantly felt bad because of suffocation, doctors had to be called. The captives also received two packs of instant noodles and a can of canned meat for five people for the whole day. The captivity entailed serious consequences for Olha's health. 
Oksana Zayaryna, a resident of Berdiansk, Zaporizhzhia region, also shared her story. The occupiers took the woman from her house and brought her to a so-called "commandant's office", where there used to be a police station, where she was tortured with electric shocks. Zayaryna was accused of helping the Armed Forces of Ukraine, leading a terrorist organization, and cooperating with Ukrainian special services. The occupiers promised to take her to the "Donetsk People's Republic" and put her in prison for 20 years because of her pro-Ukrainian views. In her presence, the Russians tortured other prisoners and watched her reaction. 
"My relatives were looking for me, but not a single human rights organization – OSCE, UN, or Red Cross – came to us," Zayaryna said. After 86 days, the woman was released, signing an acknowledgment that she had no complaints about the actions of the Russian Federation. Zayaryna managed to leave the occupation in three weeks.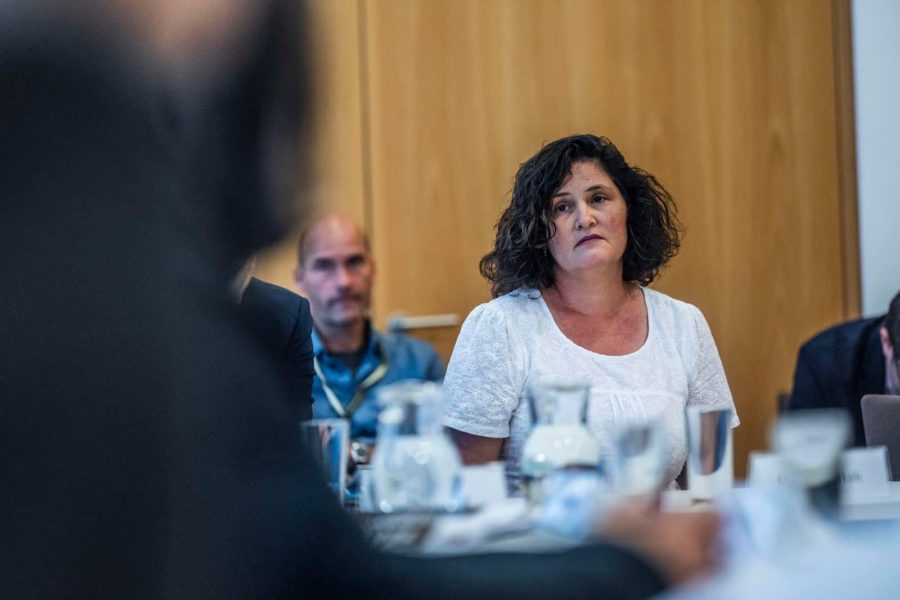 Oleksandr Hunko is a journalist by profession, editor-in-chief of the Nova Kakhovka City website. After his hometown was occupied, he continued to work and cover events. On April 3, 2022, he was illegally detained by a group of Russian soldiers at his home in Nova Kakhovka, Kherson region. Oleksandr, 70, spent three days in a local police station, sitting on a chair, handcuffed to the battery. The man was interrogated three times, accused of bias against the Russian military whom he called occupiers and "orcs" in his publications. During the first interrogation, the man was beaten. In addition, he heard other persons being tortured for three days. The man was released on April 6, 2022, only after filming a staged video for Russian television. Later, the Russians offered him the position of editor of a local newspaper, but he refused. 
Yulia Khrypun's father Serhiy was taken captive in Zaporizhzhia region on March 24, 2022. At first, he was in the territory of the "DPR" and then was transferred to Russia. The family knows that Serhiy Khrypun was tortured, forced to stand for a long time without being able to sit or lie down. His confinement in Russian captivity was confirmed by the Red Cross, but a year and a half has passed, and Serhiy Khrypun has still not been released. The Khrypun family, together with several other families, united and founded NGO "Civilians in Captivity" which fights for the release of illegally detained people. 
Olha Rudenko said that her sister and her sister's husband had been detained by the Russian military on the street and there was no connection with them for four months. "The city is under occupation, and we do not know what happened to them and where they are. The sister's husband was only able to inform us that he had been detained on 'terrorism' charges and that he was awaiting trial. The sister and her husband are both 62 years old, they are pensioners. We don't even know if they are alive or if they are receiving medical care," she added.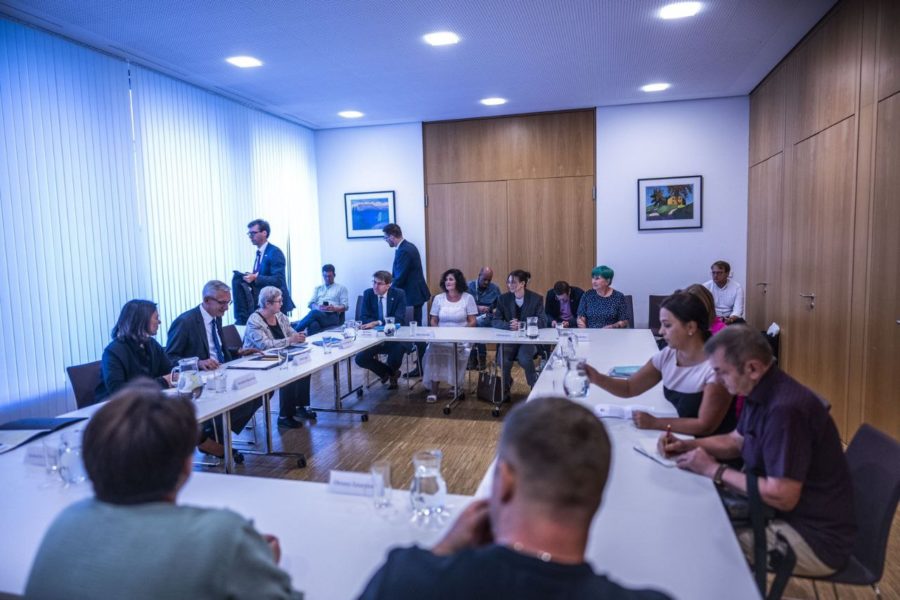 Illia Honchar also spoke during the meeting with the German foreign minister, saying that his brother and mother tried to evacuate from Mariupol in April last year when the city was encircled. On April 9, 2022, the brother was detained at the border with the Russian Federation. Eighteen months have passed since then and there is no information about him. 
"I learned only from other captives already released that my brother is alive and is held in prison in Rostov region," he said. Together with other families founding NGO "Civilians in Captivity", Honchar calls on the international community to seek the release of their relatives. 
MIHR co-founder Olha Reshetylova noted that her organization now had to document what she once read about in the memoirs of dissidents in history lessons at school – interrogations, torture, deportation to Siberia, murders: "I did not think that we would document such cases today. But since we have studied history well, we know what will happen next. Russia uses KGB methods: people will be transported deep into Russia, camps for them will be created where they will disappear. Associated Press journalists found documents indicating that the Russians will build dozens of new camps for Ukrainian citizens." 
Reshetylova emphasized that all the mechanisms invented after World War II to control the treatment of civilians and their release were not working currently. Together with Ukraine 5 AM Coalition, MIHR developed recommendations and calls for the creation of an international working group to identify places of confinement of civilian captives and seek their release. The human rights activist also called for sanctions against all those involved in the unlawful imprisonment of civilians, including the heads of Russian penal facilities and pre-trial detention centers.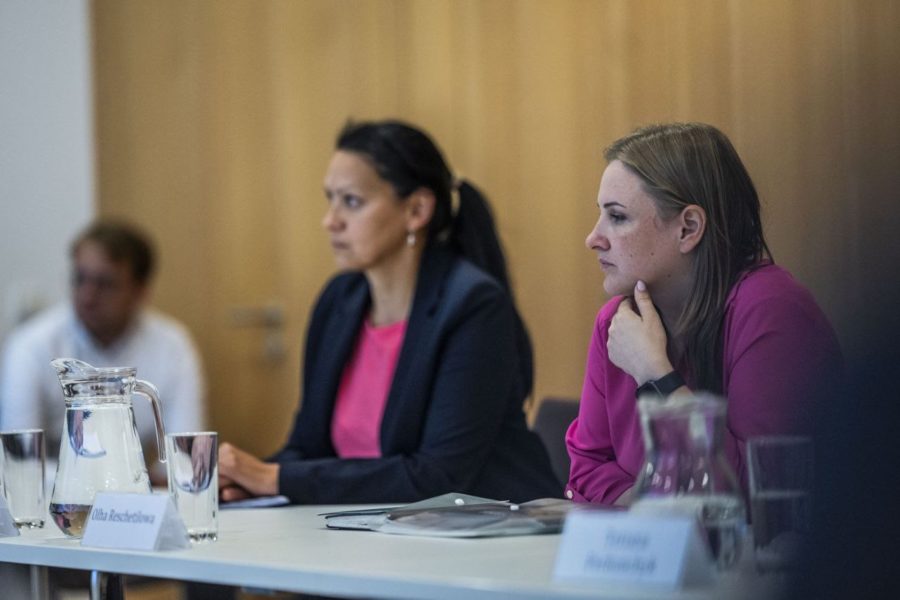 "Enforced disappearances committed by the Russian Federation in Ukraine are not only a war crime, but also a crime against humanity. We hope that the International Criminal Court will pay attention to these investigations, as well as to the mechanisms of universal jurisdiction, which, in particular, exist in Germany," Reshetylova emphasized. 
Annalena Baerbock added that Germany was working together with Canada to recognize civilian captives as a category against which Russia commited a crime against humanity in Ukraine. 
At the end of the meeting, Oleksandr Hunko presented the German foreign minister with a collection of his poems written under the occupation. 
Photo credit: Embassy of Germany in Ukraine