How Russia is destroying Ukrainian childhood: researchers speak about war crimes against children
Russia kills and maims Ukrainian children every day; destroys hospitals and schools, depriving children of the right to healthcare and education; forcibly displaces them to its territory and often does not allow them to leave for Ukraine-controlled territories. Russia also tries to destroy the Ukrainian identity of children living under occupation or displaced children, and conducts mass campaigns to militarize minors. The Ukrainian prosecutor's office has already opened more than a thousand criminal proceedings over crimes against children.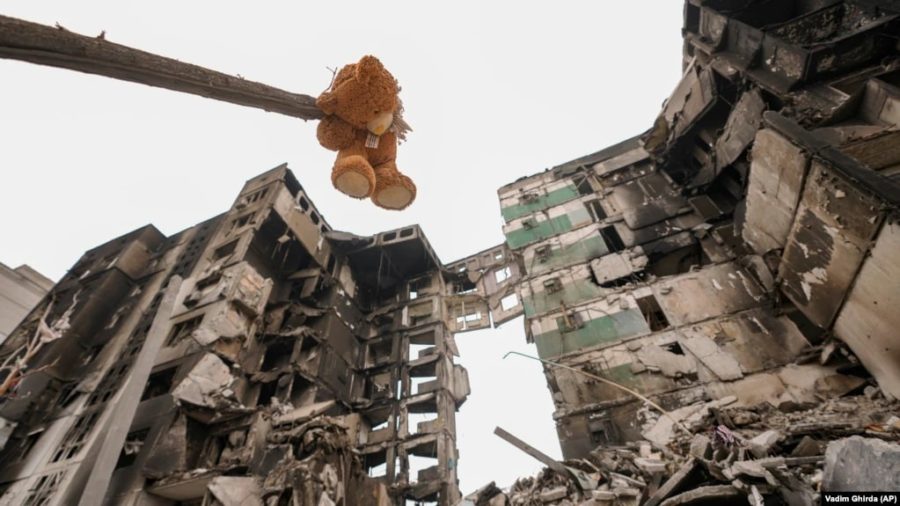 Human rights activists spoke about these crimes and their legal qualifications during a press conference on International Children's Day.
"UN Security Council Resolution 1261 identifies six serious violations against children during armed conflict: 1) the recruitment and use of children; 2) killing and maiming of children; 3) rape and other forms of sexual violence against children; 4) attacks on schools, hospitals and related persons associated with them; 5) abduction of children; 6) denial of access to humanitarian aid," said Inna Zavorotko, a postgraduate student of the National University of "Kyiv-Mohyla Academy", an expert at the Fund for Fundamental Research Support. "Russia now cynically commits all these violations against Ukrainian children. All these violations are all international crimes that have no statute of limitations and must be classified as genocide, war crimes, or crimes against humanity depending on the circumstances."
According to UNICEF data, 4.8 million children have already fled their homes due to the war. Of these, about 2 million children have moved abroad, 2.8 million are internally displaced persons. More than 232,000 children have been forcibly displaced to Russia.
"Russia has committed the gravest crime against humanity – it has deprived all Ukrainian children of their childhood. More than 250 children have been killed during the full-scale aggression, and more than 446 have suffered injuries of varying severity. Millions have been forced to flee their homes, and hundreds of thousands have been forcibly displaced to Russia. For the three months of the war, 180 educational institutions were completely destroyed and 1,909 institutions were damaged. Children are virtually deprived of the right to development and the future. Tens of thousands live under occupation and we have limited information about their well-being," said Andriy Chernousov, a leading expert at the Kharkiv Institute for Social Research (KhISR).
In addition, according to the report by KhISR and the Voices of Children Charitable Foundation on Russia's crimes against children committed over the past month of the war, Russia deliberately creates humanitarian crises in the occupied territories.
"Newborns under 6 months have almost nothing to eat. There are no infant formulae, mothers do not have breast milk because of stress. Infant food has a very short shelf life, volunteers should bring it constantly. But humanitarian aid delivery is blocked, trucks are simply ordered to make a U-turn at Russian checkpoints," the researchers note in the report.
Russia also recruits children in the war and its propaganda which is completely illegal. According to the KhISR and the Voices of Children Foundation, 29,000 children only in Crimea, or one in ten pupils on the peninsula, joined the All-Russia "Young Army" National Military Patriotic Association as of 2021. At the end of 2021, there were about 7,500 members of the "Young Army" in the territory of the "Donetsk People's Republic" and the "Luhansk People's Republic".
Children aged 8-18 can join the "Young Army" at the application from their parents. Moreover, orphans and children deprived of parental care become members of the association. Children are raised in the hatred for Ukraine and are also prepared to serve in the Russian Armed Forces.
In the occupied territories, propaganda stories are filmed with the use of children. Thus, in the occupied town of Melitopol, children were forced to wear St. George's ribbons and recite poems about the war. In Mariupol, to create a needed "appearance", the Russian occupiers opened a "children's center" in the premises with no power or water supply, where food is cooked on the fire in the yard. In the center, the children will be taught according to a Russian-language textbook prepared in the self-proclaimed pseudo-state formation in certain areas of Donetsk region.
Valentyna Potapova, Head of the "Almenda" Civic Education Center, notes that human rights activists recorded targeted militarization of minors through formal and non-formal education in the occupied territories of Ukraine for the eight years of occupation. And after February 24, 2022, the occupiers use education to impose a loyal attitude to the Russian-Ukrainian war on children in Crimea to not only justify military aggression but also to promote service in the Russian armed forces.
"After new territories were occupied, we have heard from the local 'leaders' that they seek to change the Ukrainian education system which 'was stuffed with Bandera propaganda, distorted history, and which led to the destruction of Ukrainian statehood.' Therefore, we no longer have time for 'concerns'. Our task is to work together to stop the total violation of the Convention on the Rights of the Child and International Humanitarian Law by the aggressor country and to bring the military and the so-called 'educators' to justice," Potapova said.
Yulia Usenko, Head of the Department for the Protection of Children's Rights and Counteraction to Violence at the Prosecutor General's Office, noted that the prosecutor's office has been recording crimes against children separately since the first days of the war.
"We have already opened 1,042 criminal proceedings over crimes against children. Of these, 551 are physical war crimes against children, i.e., murders, injuries, sexual violence, abduction. And 491 cases concern armed attacks and the destruction of civilian children's infrastructure. Eleven notices of charges have been served to Russian criminals," Usenko reported.
Ukrainian children and their families experience great mental stress due to the war and its severe consequences. Olena Rozvadovska, Chair of the Voices of Children Foundation, says that many families will need long-term psychological support:
"Very soon the time will come when we will work with difficult appeals from parents and their children with post-traumatic syndromes. And our work is aimed at developing free long-term programs to support such families. We already have many requests, but there will be even more after the war. Therefore, the next 10 years will be crucial for Ukraine to implement effective programs of psychological support for children and their parents. And realizing that the state is barely coping with the economic consequences of the war, we should not expect that such a state program will be launched promptly. That's why we're working on it now." 
***
We invite you to read the reports by KhISR and the Voices of Children Charitable Foundation on Russia's war crimes against children for the first, second, and third months of the war. The video from the event is available at the link.
The event was held under the auspices of the International Renaissance Foundation.
For more information, please contact Iryna Ivanchenko at ii@humanrights.org.ua, +38 099 772 56 67
Ukraine 5 AM Coalition has been working since the beginning of the large-scale Russian invasion to protect the victims of Russian armed aggression in Ukraine and to bring the top leadership of the Russian Federation and the direct perpetrators of war crimes to justice. The Coalition members are Human Rights Centre ZMINA, Ukrainian Helsinki Human Rights Union, Ukrainian Legal Advisory Group, Regional Center for Human Rights, Media Initiative for Human Rights, Institute for Peace and Common Ground, "Almenda" Civic Education Center, CrimeaSOS, Crimean Human Rights Group, East SOS, Social Action Centre, Advocacy Advisory Panel, Kharkiv Institute for Social Research, DEJURE Foundation, Truth Hounds, Educational Human Rights House Chernihiv, Human Rights Center "Action", Association UMDPL, Ukraine without Torture, Human Rights Platform, Association for Development of Judicial Self-Government of Ukraine, Ukrainian Healthcare Center (UHC), Expert Center for Human Rights, NGO "Postypovyi Hurt Frankivtsiv", Association of Relatives of Political Prisoners of the Kremlin, Fund for Fundamental Research Support, FREE ZONE, experts Denys Rabomizo, Darya Svyrydova, Giunduz Mamedov, Andriy Vyshnevskyi.