Twitter Spaces: how Russia deports orphanages and prisons from the occupied territories of Ukraine
On March 10, 3 pm CET, Twitter Spaces will take place to discuss the deportation of Ukrainian closed-type institutions, such as orphanages and prisons, by Russians, destinies of Ukrainian children deported to Russia and the ways of repatriation. Twitter Spaces will be held by the Euromaidan Press.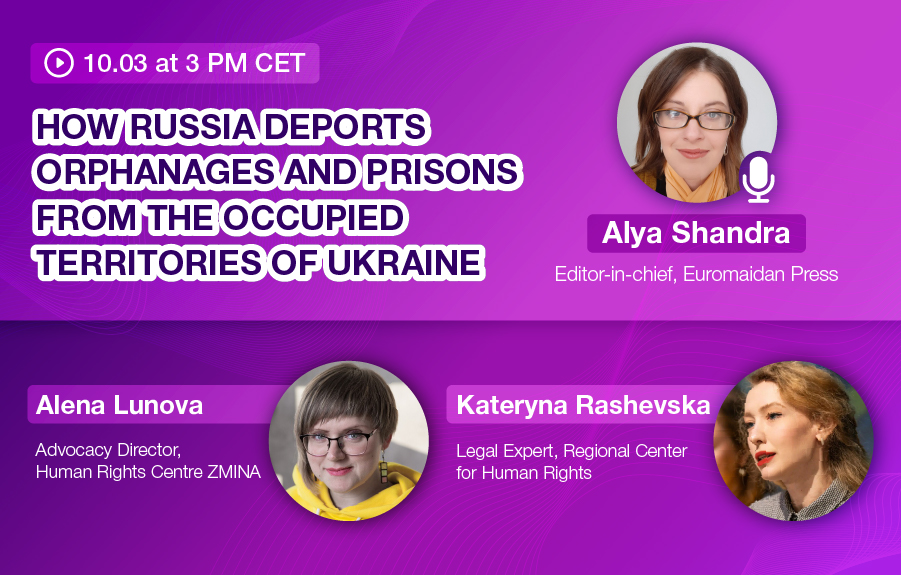 Deportation is widely used by the Russian military to intimidate the population of the temporarily occupied territories of Ukraine and to erase their identity. Nowadays, people are not put in dirty, windowless freight trains: they are invited to big and spacious buses. However, one thing has not changed – the absence of choice. You have to go to the territory of the enemy or you risk to die under shelling.
During the previous Twitter Space Onysiia Syniuk (Human Rights Centre ZMINA) and Dina Urich (Helping to Leave) with a moderation of Alya Shandra (Euromaidan Press) discussed the scale of deportation and the process of documentation.
This time, we will delve into specific examples of mass deportations of closed-type institutions such as orphanages, prisons and boarding schools, will look at the purpose of deportation, the ways of prosecution for this crime and the role of the state and civil society in supporting the victims.
Twitter Spaces will bring together human rights defenders to discuss the following questions:
What is the scale of deportation of closed-type institutions from the occupied territories of Ukraine by Russia?
Why the relocation of institutions is not evacuation but deportation?
What happens with Ukrainian children deported to Russia?
What are the ways of repatriation of deported citizens of Ukraine to Russia?
Panellists:
Moderator: Alya Shandra, Editor-in-chief, Euromaidan Press