ZMINA called for the release of Ukrainian сivilian hostages taken by Russia
On the evening of March 29, #TheTaken campaign took place in Lviv in support of Ukrainian journalists, activists, and local officials who had disappeared since the beginning of the full-scale war or had been abducted by the Russian occupiers.
The launch event of a new international campaign to stop Russian forces abducting Ukrainian civilians was interrupted by air raid warnings.
The event, organised by the Human Rights Centre ZMINA, had already been delayed by 24 hours due to security concerns following airstrikes on the city over the weekend. Journalists and campaigners were forced to seek shelter in a nearby underground car park when the city's air raid siren sounded at around 8.35pm (local time). ZMINA's staff continued to give interviews to the media even as they sheltered from a potential air strike.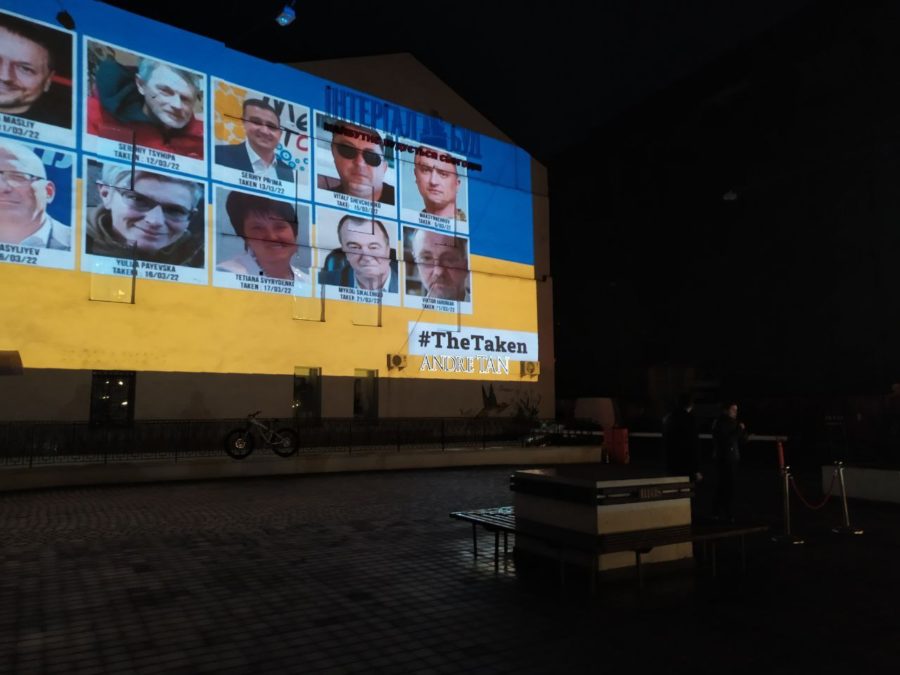 During the street action, Human Rights Centre ZMINA revealed the names of Ukrainians who are currently likely or confirmed to be detained by Russians without the possibility to contact the abductees. So far, according to human rights defenders, there are more than 30 people. And in total, more than 50 Ukrainians have been abducted or disappeared since the start of the full-scale invasion. 
ZMINA showed the faces of ten of the abductees, projecting their photos at a building in Lviv downtown, and called on to share their stories.
"Ukrainians are resisting the Russian occupation. Unarmed citizens take part in peaceful rallies, come out with posters and Ukrainian flags against Russian tanks and soldiers. In response, the Russians brutally dispersed the protesters, arbitrarily detaining the most active of them and holding them hostages. The representatives of Ukrainian local authorities and public figures who do not cooperate with the occupiers, as well as their relatives and friends, have also been abducted. There are reports of ill-treatment of the abductees and torture," said ZMINA researcher Anastasia Moskvychova.
Human rights defenders claim that the Russian government is responsible for the deliberate abductions and is doing so to silence the voices of opinion leaders and intimidate Ukrainian civilians. Therefore, ZMINA demands their immediate release and calls on the public to help to find them.
"Today I am here to draw attention of the international community to the abductions of civilians by Russian war criminals. We believe that publicity will help these people to stay alive and force the Russian government to release them,"  Moskvichova stated.
Due to the airraid alarm, the organizers had to promtly finish the street action and continue to give comments to journalists from the shelter.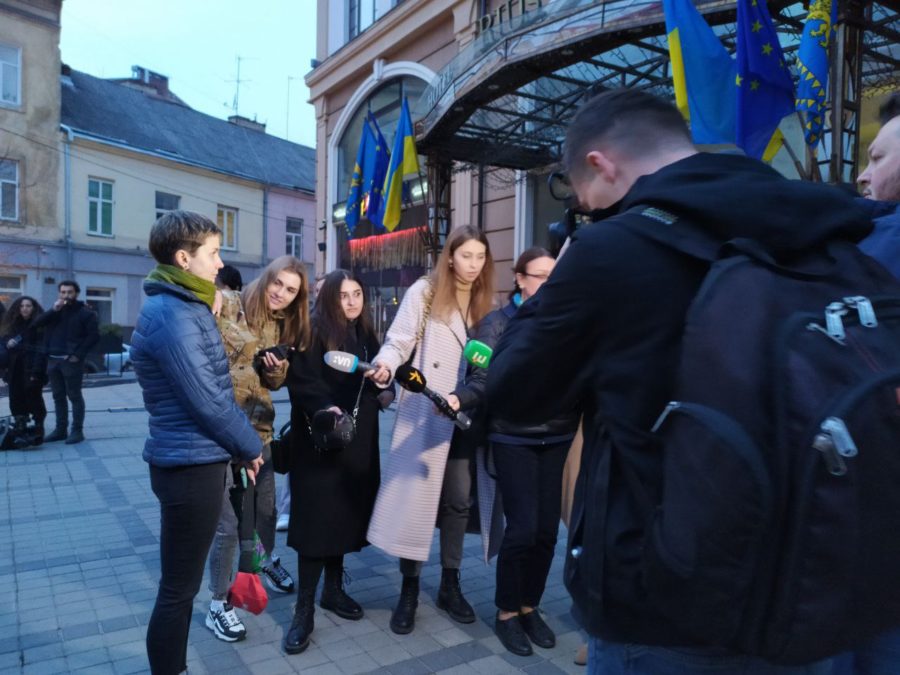 #TheTaken campaign, which went live on social media on Monday, shines a spotlight on the civilians that have been abducted by Russian forces and demands their immediate release.  In a massive show of solidarity and support, dozens of political leaders and celebrities have already endorsed the campaign on Twitter, including UK Foreign Secretary, Liz Truss, and Ukrainian Minister of Foreign Affairs, Dmytro Kuleba; former UK Prime Minister, David Cameron; former Swedish Prime Minister Carl Bildt football star Gary Lineker; historian Francis Fukuyama, and business leader Sir Richard Branson.  Actor Liam Neeson is also supporting the campaign.
Sharing ZMINA's campaign post, Liz Truss's Tweet read: "Putin continues to use abhorrent tactics against the Ukrainian people, including abducting civilians. He is not achieving his objectives and is resorting to desperate measures. Putin must fail in Ukraine. #thetaken"
Ukrainian Foreign Minister Dmytro Kuleba wrote on Twitter: "Getting no local support in Ukraine, Russian invaders abduct elected local leaders, activists, and journalists. Join the Day of Action by Ukrainian human rights activists @zminaUkraine. Post names and faces of the abductees with #TheTaken hashtag to demand their immediate release."
David Cameron tweeted: "Putin's tactics in Ukraine are truly horrific. Innocent civilians continue to be abducted & deported to Russia. I join @zminaUkraine & the people of Ukraine in demanding the immediate release & safe return of #TheTaken. On this Day of Action, show Putin that the world is watching."
Carl Bildt wrote: "Whenever Russia occupies territory in Ukraine they arrest individuals and in many cases deport them to Russia and an uncertain fate. They want to crush believers in democracy and freedom. #TheTaken"
Diplomats at the UN are also supporting the campaign, with the Permanent Missions of Latvia, Lithuania and Estonia all publishing Tweets.
Earlier ZMINA has published a list of civilians that have been abducted by the Russian government and is demanding for their immediate release.  ZMINA alleges that the Russian government is responsible for targeted abductions to silence key voices and intimidate Ukrainian civilians.
Tetiana Pechonchyk, Head of ZMINA, said: "Russia is detaining and disappearing civilians in an attempt to break the spirit of the Ukrainian people. They aren't soldiers – they are journalists, activists, volunteers, community representatives, elected officials and council workers. Their number grows daily. Today we are publishing our first list of those who have been taken so the Kremlin knows the world is watching and will not allow them to come to harm. In total we have so far documented 39 cases of enforced disappearances and arbitrary detentions in the Ukrainian territories newly occupied by Russia. We ask everyone to join us in sending a message to Moscow – we know who you have taken and we will not forget their names."  
***
People who want to join in with the campaign are being encouraged to post the graphic attached to this release on their social media accounts along with the following suggested text:
Putin can't take Ukraine so he's taking its people. Dozens of civilians are missing and thousands more deported to Russia. These people have names and faces. Please share them and demand their safe return. Ask @KremlinRussia_E 'Where are the taken?' #TheTaken
About ZMINA
ZMINA is a leading human rights organisation in Ukraine.  Since March 2014 ZMINA has been documenting human rights abuses in the Russian-occupied Crimea and organised an international human rights mission to Crimea. Following Russia's invasion of Ukraine in February 2022, ZMINA, along with other 22 Ukrainian human rights NGOs, has established a Ukraine. 5 am Coalition to document war crimes, protect victims and bring to justice the top leadership of the Russian Federation, as well as the direct perpetrators of war crimes and crimes against humanity.