"Women worldwide must unite against dictatorship: a discussion with human rights activists from various countries took place in Kyiv."
On October 14, during the international conference 'Crimea Global. Understanding Ukraine through the South' in Kyiv, a discussion was held on the impact of war and violence on women in different countries.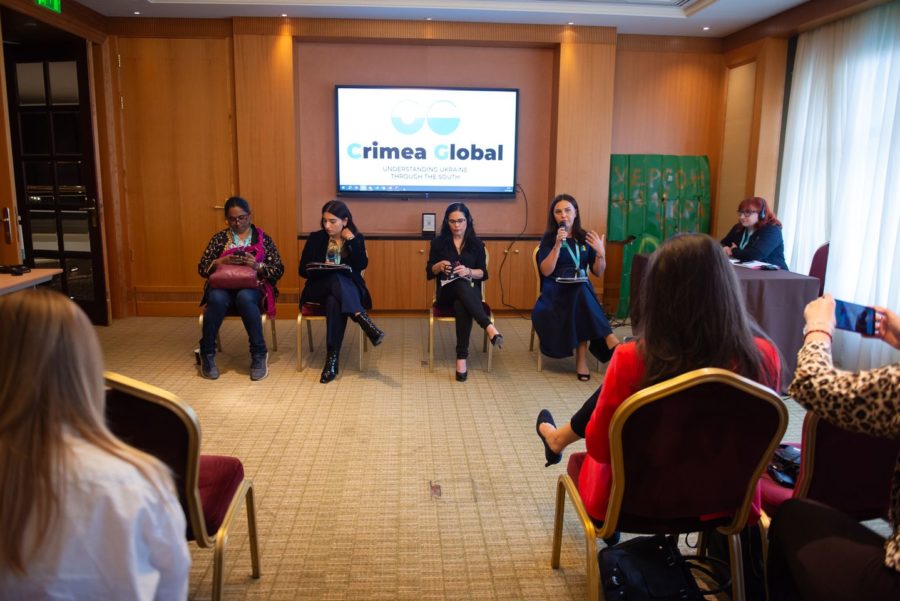 During the event, representatives from Iran, Mexico, India, and Ukraine spoke about social and political processes that are alike in these countries and that define the role of women.
Tetyana Pechonchyk, Head of ZMINA Human Rights Center and moderator of the event, noted that the full-scale war in Ukraine has led to a decline in the fight for the rights of Ukrainian women. After February 24, 2022, Ukrainian women have to take care of household chores and raise children on their own, as many schools and kindergartens in the country are closed. In addition, most of the refugees are women with children. This is also a challenge for women.
Pechonchyk also mentioned that 60,000 women are currently serving in the Ukrainian army, 40,000 of whom are at the front. According to the human rights activist, Ukrainian women have taken on a lot of responsibility.
But a particular critical issue is the war crimes, including sexual violence, committed by Russians during the full-scale war.
Renowned Indian human rights activist, feminist, and writer Kavita Krishnan noted that Russia and India have similar anti-democratic policies that target, among others, the oppression of women.
"Women in India often face violence, partially due to the patriarchal structures within society," Kavita Krishnan said.
She believes that women from different countries share similar experiences and should show solidarity.
"But for complete solidarity, we need to address one nuance pushed by some prominent feminists. We should reject the idea of peace for the sake of peace, especially in the context of the war in Ukraine. It doesn't work," the Indian leader said.
According to Samira Ardalani, Iranian human rights activist, the situation for women in Iran is one of the most challenging in the world. She states that Iranian women feel like second-class citizens compared to men.
"Women are unprotected in the streets, even during simple walks. Despite strict penalties for assaults against women, they still occur. There is no convention that safeguards women's rights in Iran. Thousands of women, including teenagers and even pregnant women, have been executed, with many of them subjected to sexual violence," Ardalani shared.
At the same time, according to the human rights activist, it is Iranian women who have been at the forefront of the fight for human rights in the country for 40 years. And Ukrainian women are an extraordinary source of inspiration for them.
"We need to learn to cooperate, as women all over the world. We should not support reconciliation with dictatorships. We must act as a united global front," Ardalani stated.
Hannia Novell, a well-known Mexican journalist, scholar and writer, women's rights advocate, presented a film about the murder of women in Mexico during the discussion.
According to the film, 27 thousand women and girls were killed between 2015 and 2023. In Mexico, women are killed just because they are women. Women are attacked, beaten, kidnapped, and their bodies are simply buried. In accordance with the data presented in the film, 1735 hidden graves were found in Mexico in 2020-2022.
"The police do not investigate crimes against women. The law enforcement system fails to respond to cases of rape and assault, or says that nothing happened. We are forced to shout for our rights. My voice is a cry in the silence to defend ourselves," Novell said.
She also urged women from different countries to unite: "We must not remain silent and allow ourselves to be killed or forced to stay at home. We must condemn war crimes against women. Our voices must be heard all over the world."
Source: Crimea Platform