Enforced disappearances and arbitrary detentions of active citizens during the full-scale armed aggression by Russia against Ukraine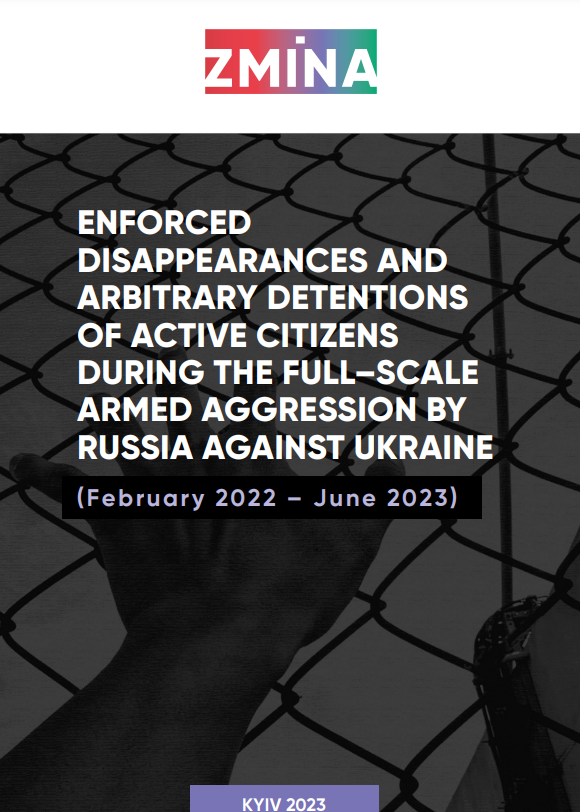 This report provides data on enforced disappearances and arbitrary detentions of active citizens, including public activists, volunteers, journalists, local government officials and employees, educators, religious figures, cultural figures, as well as relatives of active citizens; these disappearances and arbitrary detentions took place on the territory of nine regions of Ukraine, which were or remain occupied by the Russian Federation after a large–scale invasion of the territory of Ukraine since February 24, 2022; also included are cases where people have been released, found dead or remain missing.
The data was collected and documented by Human Rights Centre ZMINA in cooperation with Ukraine 5 AM Coalition. The report is intended for representatives of state authorities, civil society, international and intergovernmental organisations, and journalists.
ZMINA is grateful to Maria Kvitsinska, World Organisation Against Torture (OMCT), for her assistance in reviewing this report. The study was prepared with the support of Freedom House. The content and opinions expressed in this report are the responsibility of the authors and do not necessarily reflect the position of Freedom House.
This publication contains naturalistic descriptions of incidents or victims that may shock, appal or dismay some readers.