Forcible transfer and deportation of children from the temporarily occupied territories of Ukraine to the Russian Federation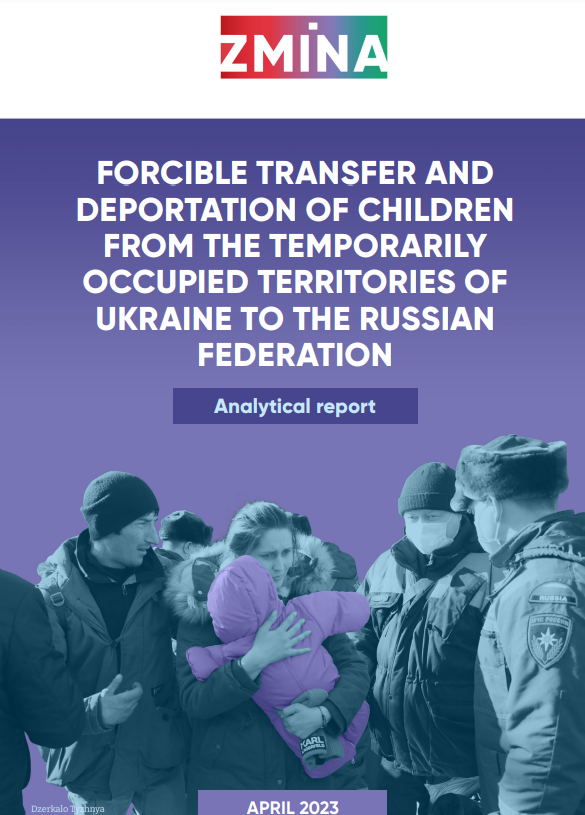 This analytical report is aimed at forming the general picture concerning the policy of Russia on the displacement of Ukrainian children, methods of re-education by making them study according to the Russian educational program, and transfer children to the custody and care of Russian families. Studying all these aspects in their entirety will allow us to make conclusions about the presence of signs of the deportation of Ukrainian children and the crime of genocide in terms of the displacement of children from one group to another. Particular attention is paid to the guardianship system in Russia to determine the danger of Ukrainian children staying in Russian families.
The analytical report covers the period from the start of the full-scale invasion on February 24, 2022 to March 11, 2023.
This analytical report is based on information collected by the Human Rights Centre ZMINA from open sources and as a result of documenting the testimonies of people who suffered or witnessed the crime of deportation and forcible transfer, in particular, managers and employees and residents of custodial facilities, as well as on the analysis of reports from state authorities of the Russian Federation and the occupation administrations regarding the displacement, accommodation and organization of education for children who were forcibly transferred to other occupied territories of Ukraine or deported to the Russian Federation and transfer of such children to the care and custody of Russian families.