Proper documentation of crimes underpins future justice – Ukraine 5AM Coalition reports on results of one year of full-scale invasion
The powerful reaction of civil society became one of those factors which cemented Ukraine's ability to resist and the one which Russia did not foresee in its plans. The process of creating the Ukraine 5AM Coalition began on the second day of the full-scale invasion. Today, it includes more than three dozen organizations, some of which have been dealing with the topic of armed conflict since 2014 and some have adjusted their activities in response to new challenges.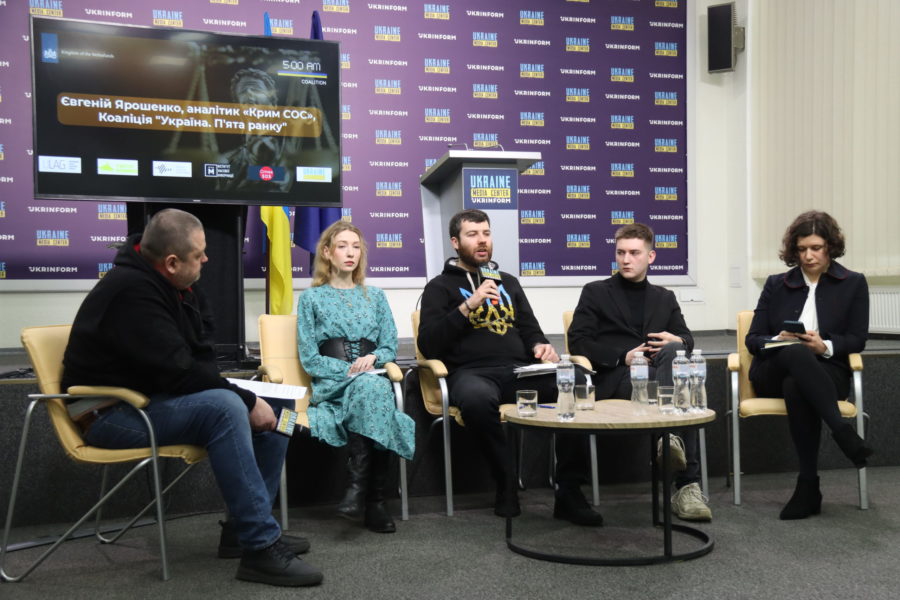 This is what happened with the Institute of Mass Information (IMI), which after February 24 focused its attention on such a phenomenon as "genocidal rhetoric." Both Russian president Vladimir Putin himself and the Kremlin-controlled information network resort to it, explains Oksana Romaniuk, IMI executive director.
"Before the full-scale invasion, we used the term 'disinformation', but now it is clear that Russian disinformation is actually part of Russian military doctrine and Russia's plan to invade Ukraine and seize territory. Now we use the term 'genocidal rhetoric' because these are direct calls for the genocide of Ukrainians. We want to describe the calls of propagandists also as a crime of aggression – this is a big task for the future. After all, the crime of aggression in its current definition does not include an informational component. That is why the Institute of Mass Information is gathering evidence to understand how to describe it correctly and how to make sure that the guilty are punished fairly – we want to see those who resort to genocidal rhetoric in an international tribunal," Romaniuk emphasizes.
IMI has already submitted several cases to the International Criminal Court (ICC), in particular, regarding the shelling of TV towers and the murder of photojournalist Maksym Levin, one of eight Ukrainian journalists killed while performing their duties since the end of last February. In total, Russia killed 48 media professionals over the past year, including those who went to the front and joined the Armed Forces of Ukraine.
"We talk and hear a lot about the ICC, and we also understand that it is not a panacea. We cannot hope that everything that Ukraine cannot do, someone else will do for us. What the ICC is capable of, they can do with the support and full participation of Ukraine. Given this, Ukraine as a state can ratify the Rome Statute. Since today, due to the non-ratification of the Rome Statute, we only submit information but we do not have the right to participate in decision-making, in the selection of prosecutor, judges who will further consider the case regarding Ukraine," Nadia Volkova, director of the Ukrainian Legal Advisory Group, commented on one of the key points regarding the mechanisms of future justice.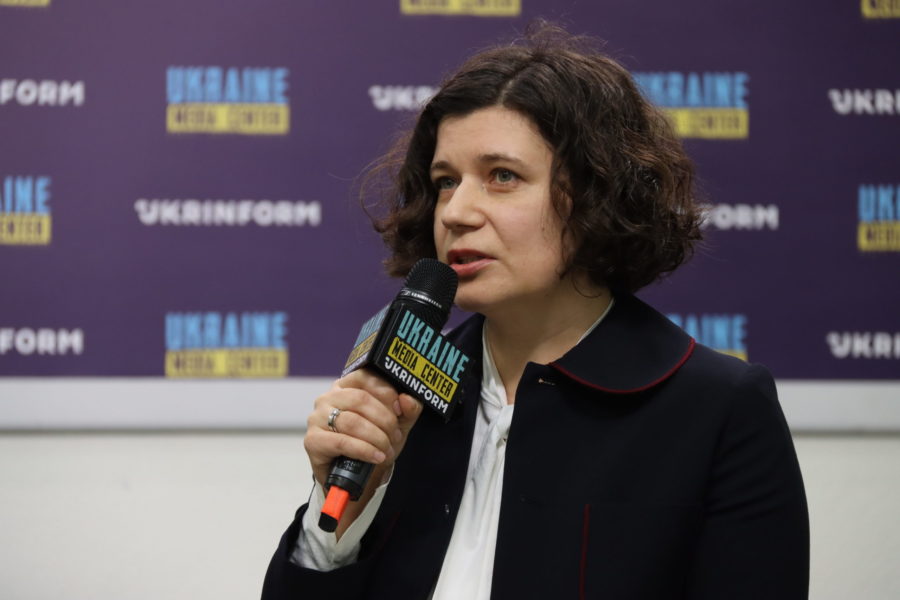 A recent study, conducted by the Ukrainian Legal Advisory Group and the Sociological Group "Rating", allows making conclusions about the poor awareness of people about the Rome Statute as only 30% of those surveyed know what kind of document it is. However, an absolute majority, 79% of this 30%, supports the ratification of the Rome Statute. The state has not yet declared its readiness to do so, postponing it for an unspecified "after-war" period. 
However, the first step towards justice is thoroughly documented evidence that will form the basis of future criminal cases. Ukraine 5AM Coalition created a single database in iDoc service, where organizations enter the collected information which is then processed and systematized by analysts. 
Roman Koval, documentator, coordinator of Truth Hounds communications department, said that his organization had conducted 7-8 field missions per year before the full-scale invasion. Currently, the scope of tasks increased manifold: the 29th and the 30th missions in Kherson region and Kharkiv region are coming to an end. 
"This year, our team of monitors recorded more than 4,000 incidents with signs of war crimes. Within 30 field missions, we collected approximately 380 first hand testimonies from witnesses and victims. Documentators are trained to collect evidence of war crimes in such a way that they do not lose their evidentiary value. On this path, we came to an important decision: to use the common iDoc database as the main repository of evidence and testimony information," adds Roman Koval and emphasizes that apart from coordination within the Coalition, there is also interaction with government agencies and law enforcement officers. This allows human rights defenders not to duplicate the efforts of each other, to go to places where other documentators have not yet worked, and, what is important, not to retraumatize witnesses, not to force them to tell several times and relive horrible events. 
One of the most painful topics, which is also taken care of by the Ukraine 5 AM Coalition organizations, is abduction, deportation, and indoctrination of children which can also be considered a crime of genocide. After all, Russia erases the identity of children, changes their personal data, says Kateryna Rashevska, expert at Regional Center for Human Rights. 
"There is a problem with the identification of children who were taken to Russia. However, it is already known about 16,000 such children, even more – information about them is available on the Children of War portal. Russification, militarization, indoctrination in Russian families, orphanages, camps, and hospitals are the main tools of the policy to eradicate Ukrainian identity and destroy an entire generation of Ukrainians without physical liquidation. Leaving children in the territory of the Russian Federation means tolerating several international crimes at once, while postponing their return until the end of the armed conflict means accepting the fact that children may be 'appropriated' by Russia forever and will even be drafted into the war against Ukraine after coming of age," the expert notes. 
In general, sending Ukrainians to fight against other Ukrainians is a long-standing practice for Russians. With the beginning of the full-scale invasion, Crimea turned into a bridgehead where Russia mobilizes the local population to fight against Ukraine. In the same way, kidnapped residents of Zaporizhzhia and Kherson regions are unlawfully held on the peninsula – an additional detention center was set up for them in Simferopol last October. Information about these people is often limited and reaches relatives mainly through the testimony of cellmates which they pass on to their lawyers. 
"According to local human rights defenders, there are at least 110 civilians whom the occupiers forcibly transferred from Ukraine's southern regions to Simferopol pre-trial detention center. Most of them are held there without any criminal charges. They do not have access to a lawyer and are held incommunicado," comments Yevheniy Yaroshenko, Crimea SOS analyst.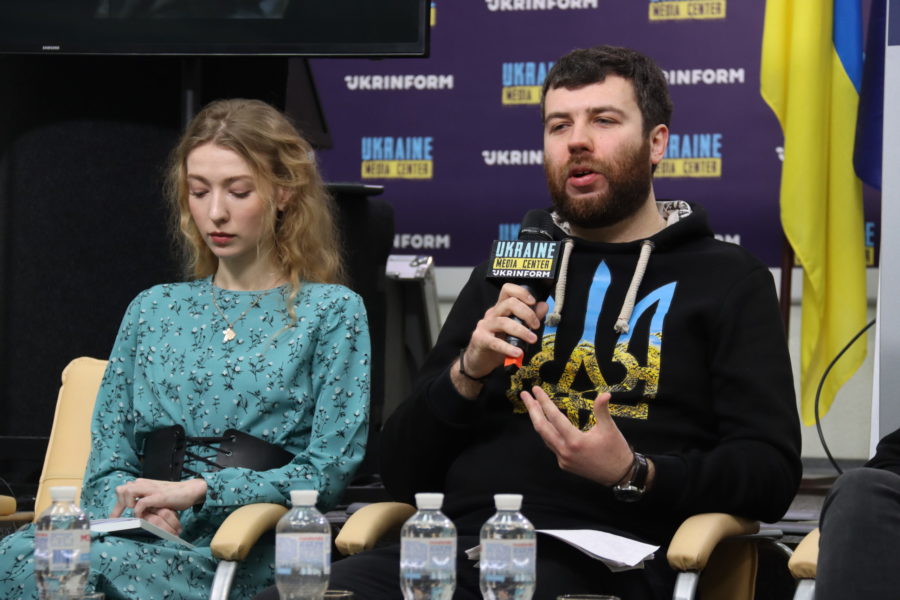 According to him, there are also cases of prosecution for so-called "fakes about the Russian army" and even the first criminal case in Crimea on charges of "discrediting the Russian army." Mass searches are also ongoing on the peninsula, and human rights defenders who defend Ukrainians imprisoned for political reasons are deprived of their lawyer licenses. 
"The full-scale invasion changed all of us and the Crimeans also. If until February 24, many pro-Ukrainian citizens there were gradually losing their hope that Crimea would return [to Ukraine], now they finally had hope that the Ukrainian flag flying over cities in Crimea is only a matter of time," Yaroshenko said. 
Watch video from the press conference in Ukrainian and English. 
Ukraine 5 AM Coalition began its work on February 25, 2022, the day after the Russian Federation's full-scale invasion of Ukraine started. Today, the Coalition unites 31 NGOs, including Human Rights Centre ZMINA and four individual experts. They combined their efforts to systematically document war crimes and crimes against humanity committed during the Russian armed aggression against Ukraine. The Coalition is also engaged in the protection of victims of the Russian-Ukrainian war through the existing domestic and international mechanisms of justice. All the efforts are aimed at achieving justice by holding the ruling elite of the Russian Federation to account for committing the crime of aggression against Ukraine.