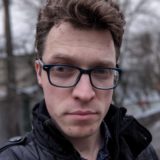 Borys Petruniok
researcher and analyst at torture documentation project
bp@humanrights.org.ua
Graduated from the Taras Shevchenko National University of Kyiv with a degree in "Political Science", Candidate of Philosophical Sciences. During his studies, became interested in ethno-political issues. Researched collective identity, in particular, external representations of the Crimean Tatar identity.
Since 2016, has worked at the Department of the Autonomous Republic of Crimea and the city of Sevastopol at the Ministry of Reintegration of the Temporarily Occupied Territories of Ukraine. Supervised the monitoring of human rights violations in the occupied territories, implementation of national sanctions as a tool for their prevention.
The author of several journalistic research papers for the Center for Journalistic Investigations.
Hobbies: reading good books, listening to music. Believes that maintaining an accurate and impartial moral sense is no less important for our victory than civil solidarity.