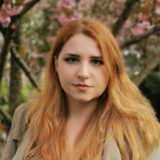 Onysiia Syniuk
legal analyst
os@humanrights.org.ua
Studied at the Institute of International Relations of the Taras Shevchenko National University of Kyiv. An international lawyer who sincerely believes in the efficiency of international law.
Researched gender-based violence in armed conflict, particularly in the context of Russia's aggression in 2014, and continues to work on this topic in the context of the full-scale invasion.
Since 2019, has been taking part in international development projects at the National Democratic Institute in the areas of women's political participation, gender equality in political and public life, and gender-responsive governance. Coordinated the implementation of the program on gender-responsive budgeting and assessment of gender equality in the communities of Zaporizhzhia and Chernihiv regions.
Areas of professional interest: international humanitarian and criminal law, proper implementation of standards of these areas in Ukraine, protection of the rights of victims of armed conflict in Ukraine, application of a comprehensive gender approach in all areas of activity to most effectively take into account the needs of certain, particularly vulnerable, groups.
"Hersch Lauterpacht's assertion that 'the individual human being is the ultimate unit of all law' is always controversial but is a guide for me. The risks of violations rise amid the war, so it is extremely important for me to join the protection of the rights of those who need it."
Hobbies: studying the Korean language and culture