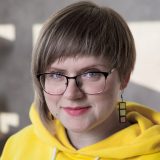 Alena Lunova
advocacy manager
al@humanrights.org.ua
Graduated from V.I. Vernadsky Taurida National University, majoring in philosophy and law. In 2011-2014, studied at the graduate school of V.I. Vernadsky Taurida National University, majoring in the theory of the state and law.
In 2011, worked as a coach at training sessions for employees of internal affairs bodies and social services in preventing and countering family violence. Since 2008, has been participating regularly in monitoring visits to custodial settings, including as a monitor of the National Preventive Mechanism.
Worked as a lawyer at the Simferopol legal reception center of the DIYA Human Rights Centre in Crimea. After Crimea was occupied, joined the Kharkiv team of the UN Human Rights Monitoring Mission in Ukraine. Later, worked as a legal coordinator at the Charitable Foundation "Vostok SOS".
"Currently, I have the desire to work more on systemic issues, not only in matters of protecting the rights and freedoms of IDPs. Large-scale processes, such as the reform of the system of registration of place of residence, the implementation of the National Human Rights Strategy, multi-level advocacy, and promotion of human rights require special attention today. And this concerns everyone who lives in Ukraine. So this is what I'm going to deal with in the near future," says Alena about her plans.
In her leisure time, improves her English, stands up paddle board, raises son Matvyi and daughter Varvara.