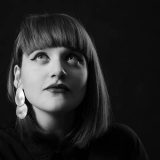 Elyzaveta Sokurenko
journalist
ys@humanrights.org.ua
In 2014 graduated from the Department of Journalism, Advertising and Publishing of the I.I. Mechnikov Odesa National University.
After that for a year worked as PR-manager in telecommunications company and for three years as the press secretary of the International Music Festival ODESSA CLASSICS.
In 2017 got a Master's degree in Journalism at Ukrainian Catholic University (Lviv). Theme of diploma project "Manens rea (constantly accused): a series of articles about women-representatives of vulnerable groups of the population".  
As a journalist wrote for such Ukrainian media as "LB.ua", "The Ukrainians", "Korydor", "Detector Media", "Platforma" etc.
Interests: non-fiction, documentary film, art studies and gender issues.