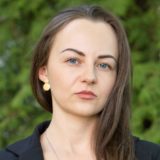 Viktoria Nesterenko
project manager
vn@humanrights.org.ua
Human rights activist and volunteer. Actively engaged in civil society activities. Working in management for more than 10 years. 
Graduated from the Open International University of Human Development "Ukraine" majoring in Information Analytics. Studied at the Kyiv School of Human Rights and Democracy of the Centre for Civil Liberties. 
Working in the field of human rights protection for five years. During this period, participated in various human rights initiatives and headed the human rights NGO "Together with the Law". The main areas of work: protection of the rights of Muslims of Ukraine, Crimean Tatars, and IDPs. Explores the topic of Muslim women's rights and feminism in Islam. From 2021 until the full-scale invasion, worked with refugees from Afghanistan in Ukraine, providing them with humanitarian and legal assistance. 
Volunteering since 2014. In 2022, founded the volunteer organization "Wings of Victory". 
Hobbies: reading, traveling.