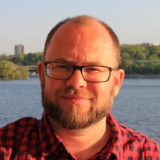 Igor Yakubovskyy
deputy head of organization
iy@humanrights.org.ua
Graduated from the Lviv Polytechnic National University, architect by profession, candidate of architecture.
Since his student years, has been actively involved in civil society activities, in particular, in student self-government body and student trade union organization.
Since 2017, has been actively participating in the activity of the Vasyl Stus Memorial human rights organization, co-organizer of all-Ukrainian and international conferences, exhibitions, and other events.
Co-author of two scientific manuals, author of more than 20 research papers on architecture and history. Has more than 16 years of teaching experience. Worked as the deputy director of the Holodomor Research Institute at the National Museum of the Holodomor-Genocide of 1932-1933.
Actively interested in history. Co-author of the book "Ukrainian statehood: historical and legal essays".
Considers the development of human rights activities in Ukraine to be critically important on the path towards the fulfillment of European integration aspirations.