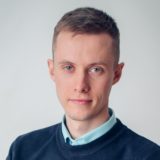 Danyil Popkov
legal adviser
dp@humanrights.org.ua
Graduated from the Yaroslav the Wise National Law University. During the studies, joined the public reception office of the Kharkiv Human Rights Protection Group as a volunteer, organized the annual Amnesty International's global letter-writing marathon in Kharkiv. After graduation, realized that the acquired knowledge and experience were not enough to consider himself a lawyer. Therefore, for the next four years, studied German language and philosophy at the University of Frankfurt.
Back in Ukraine, joined Vostok SOS Foundation, being engaged in legal and advocacy activities, participating in monitoring missions for the observance of human rights in the Joint Forces Operation zone in eastern Ukraine, and defending the rights of Ukrainian and foreign volunteers. Daniil believes that the issue of the safety of volunteers, human rights defenders, journalists, and active citizens is not just about the observance of human rights in Ukraine, but about the success and survival of the Ukrainian nation.
Apart from human rights protection, the scope of professional interests includes judicial reform and legal education reform. Author of the research "How to teach future lawyers ethics" jointly with the Dejure Foundation (2021). Believes the best way to fight corruption is not legal control and punishment but education and fashion for virtues.
Hobbies: art, sports, communication with loved ones, and laziness.
Dreams of a united Europe from the Azores to Milove.