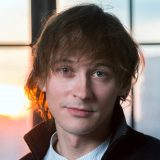 Sergiy Kochmarskiy
social media editor, journalist
ks@humanrights.org.ua
The world has been trying to catch me and has finally caught: I'm a classical "victim" of human rights trainings and this is the case when it's a pleasure to be the victim. Because it's like an everyday dose of mini Maidans to be involved in human rights sphere: if you see injustice, you should get it right and win, fortunately, there are fellow-fighters around you.
Fitzgerald said one day that the only thing one should write the fiction about is a conflict in a human's heart. Human rights are in very deed about the most important too – about freedom. To be free and make the world free, to acquit it of the injustice and stereotypes is the most interesting task, a reckless adventure, the heroes of adventure novel have never dreamed about.
I was a barista, pursued science, worked as a journalist at the different media in Kharkiv but human rights is the most interesting what has happened to me so far.
If you'd like to become a human rights defender, come and I'll make you a fragrant cup of coffee and tell you everything. Moreover I'll be ready to chat about art and culturology, to drink red dry and listen to some jazz, to walk together along the route of Joyce and climb on the roof to give city a smile – since it's we who make the life in it a little better. And the city smiles back.