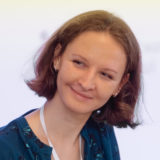 Anastasiya Lykholat
strategic communications advisor
la@humanrights.org.ua
Experienced manager of projects in the field of human rights protection in Ukraine, in particular in the field of freedom of expression and security of peaceful assemblies, protection of the rights of journalists and activists, expansion of the circle of allies of LGBTIQ+ people, and support for activists in temporarily occupied territories. Became interested in the protection of human rights protection while volunteering at the Docudays International Human Rights Documentary Film Festival in 2011. In 2014, cooperated for several months with the Ukraine Crisis Media Center – a platform for Ukrainian and foreign journalists about the events in Ukraine after the Revolution of Dignity of 2013-2014. For the past seven years, worked at the international human rights organization Freedom House Ukraine. Participated in the preparation of various analytical reports and advocacy activities in the field of human rights protection together with Ukrainian NGOs in Ukraine and the USA.
In 2023, got a Fulbright Ukraine scholarship with the opportunity to obtain a Master of Public Administration degree at Cornell University (New York, USA).
Interests: history of LGBTIQ+, modern Ukrainian literature, art, countries and peoples of the Middle East.
Born in the city of Slovyansk, Donetsk region. Received bachelor's (2013) and master's (2015) degrees at the National University of "Kyiv-Mohyla Academy" (Kyiv, Ukraine) majoring in Political Science. Speaks English and German.