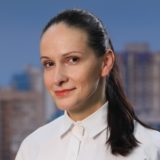 Olena Dub
social media editor
od@humanrights.org.ua
Graduated from the Faculty of Journalism of the Ivan Franko National University of Lviv. Has been working in the media since 2001. Worked for Lvivska Hazeta, Postup, Ukraina Moloda, Hazeta po-Kyivsky media outlets, radio and TV channels; cooperated with Den newspaper, the Institute of Mass Information.
In 2010-2012, coordinated the Smoke Free Kyiv project (Centre for Democracy and Rule of Law), which resulted in the adoption of legislation on a complete ban on smoking in cafes, bars and restaurants in Ukraine. Worked as a digital communications manager at the Development of Ukraine charitable foundation. Lecturer at Lviv Media Forum, Civil Society Development Forum, etc. In 2015-2020, headed the social media department of Crimea.Realities (RFE/RL).
Since 2014, Olena has also been active as a social media consultant for media and NGOs. Co-founder of SMM Talks for NGO & Media community which unites digital professionals of Ukrainian NGOs and the media. It is part of the Digital Communications Network.
Trainer of NGOs and media of Ukraine, Belarus, Latvia. As a consultant, cooperates with Thomson Reuters Foundation, Internews, Thomson Foundation, and other international foundations.